A local organization today accused Metropolitan Police Department Chief Cathy Lanier of "abdicating" her responsibility to keep transgender people safe, but Lanier retorted that the LGBT community has failed to meet police halfway in their outreach efforts.
The back-and-forth between the DC Trans Coalition and the MPD happened today during an MPD oversight hearing held by the D.C. Council's Judiciary Committee hearing at the Wilson Building.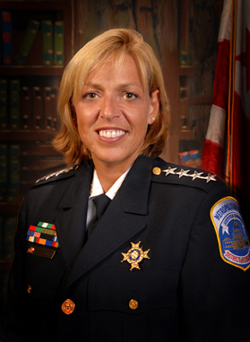 Jason Terry of the DC Trans Coalition (DCTC), the District's grassroots community organization of transgender and gender non-conforming people and their allies, testified before Councilmember Phil Mendelson's committee over longstanding concerns of the LGBT community, and, in particular, transgender individuals, concerning the MPD's response to and attempts to combat violence against members of the transgender community.
In his testimony, Terry said that the MPD, under Lanier, had "abdicated its responsibility to keep trans people in the District of Columbia safe." Terry addressed a variety of complaints that members of the LGBT community have repeatedly raised over the past few years, including the sufficiency of sensitivity training for Gay and Lesbian Liaison Unit (GLLU) affiliate officers, the closure rate for murders of transgender victims and the appearance of an inability to regularly track and provide updates on the development of crimes committed against transgender people.
DCTC also on Wednesday submitted a letter to Mayor Vincent Gray (D) regarding these issues and longstanding disagreements with MPD brass, asking Gray to either direct Lanier and other MPD officials to sit down with community activists in the presence of a neutral third party, or to use other mechanisms, such as having complaints of police bias reviewed by the U.S. Department of Justice's Civil Rights Division.
In his testimony, Terry reiterated the four major demands of DCTC: 1) updates on the status of violent crimes involving trans people, including seven unsolved homicides that have occurred within the last decade; 2) the reestablishment of the Biased Policing Task Force, with trans representation; 3) evidence of verifiable discipline taken against officers who violate departmental policy regarding trans people; and 4) a budget and timetable for ensuring all MPD officers receive training on interacting with trans people, using community-informed curriculum, over the next 18 months.
Terry noted that even in the course of providing sensitivity training to affiliate officers, trainees are able to evaluate or criticize the volunteer trainers, but there is no mechanism for trainers to evaluate trainees' performance. He also contrasted what are viewed as positive developments following community engagement of the U.S. Attorney's Office to bring D.C.'s legal system into compliance with the D.C. Human Rights Act's protections based on gender identity and expression with the lack of progress in MPD's engagement and willingness to work with the community over the same period.
In her testimony, Lanier said the MPD went back to 2000 and found that 42 percent, or five, of the 12 homicide cases involving a transgender victim have been closed, compared to the 54 percent closure rate for overall homicides during the same period of time, a difference she characterized as "very close." Lanier added that, of the five transgender murders that have occurred since she became chief five years ago, two have been closed.
Lanier also told Mendelson that, following a November 2011 hearing on hate crimes and police response, MPD had agreed to convene the meeting of the Fair and Inclusive Task Force in the first quarter of 2012, but the hearing was scheduled for the date of the oversight hearing, meaning it had to be rescheduled for Mar. 21.
Lanier said she had spoken with the Anti-Defamation League and had asked them to bring in an outside group of academics and activists to do an independent assessment of MPD's internal policies and procedures, outreach efforts, and methods of tracking and closing hate crimes. Lanier said once that independent review is done, she would then be willing to share the findings with the community.
Lanier also slammed DCTC for making claims she said were "completely false," and vowed to respond with the facts in a letter, of which she would provide a copy to Mendelson. She asked Assistant Chief Diane Groomes to testify before the committee to address other specific complaints.
Groomes said she believed the 91 GLLU affiliate officers throughout the department were doing a "tremendous job." She also said she received daily reports from affiliate officers about their efforts, and praised them for responding to situations, particularly in Wards 7 and 8, and also in cases of domestic or intimate partner violence, which she noted was a "huge" problem within the LGBT community.
Groomes also said she had received no complaints about any of the GLLU's affiliate officers. She noted that the MPD had met at least five times with Deputy Mayor for Public Safety Paul Quander and community advocates to address concerns that had been previously raised.
Lanier also testified that the list of GLLU affiliate officers has been posted online since August 2011, and slammed the LGBT community for not attending several MPD open houses, one for the Special Liaison Unit, which oversees the Asian, Latino, Deaf and Hard of Hearing and GLLU units, and seven others, one for each of the city's police districts. Other activists not affiliated with DCTC had previously complained that such events were simply a public relations move.
Lanier also expressed frustration toward DCTC for complaints against the department that she said had not been brought to their attention.
"It seems every time there's a hearing, there's this long list of complaints, we respond, we do everything proactive to do, we're told that there's no problem, and then, when we're at the hearing, all of a sudden, there's all these problems that nobody knew about," she said. "I can tell you, there is no other area in this city that gets as much extra attention and outreach activities … we really would like them to meet us halfway. We do all these outreach activities for them, and they don't show up and support us."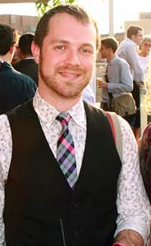 But outside the hearing, an angry Terry pushed back against Lanier's testimony. Terry pointed out that while Lanier cited five of the 12 transgender homicides had been closed, DCTC would like to know what those crimes and their resolutions were, saying the MPD has not kept the community abreast of developments related to those cases.
"It'd be great if she'd share that information with us," Terry said of Lanier. "We'd raise a lot fewer complaints if she just told us what she was up to [in order] to make things better. We can't accurately assess the problems we face if she doesn't share all the information."
Terry also said that DCTC had complained not that the list of affiliate officer was not available, as Lanier claimed in her testimony, but that it has not been updated since August, despite subsequent training sessions of other affiliate officers that have been held by volunteers from organizations like DCTC.
"We train affiliate officers every month or so, which means we're continuously adding to that list, so we need a continuously-updated roster of who's on it," he said.
"To say that complaints against MPD, and how it functions in practice, or in policy, have never been raised in the Critical Incident Team or other bodies is completely false," Terry said. He pointed to a February 2012 meeting where DCTC raised particular missteps in the investigation of the murder of transgender woman Deoni Jones earlier in the month, as the organization had complained to Capt. Edward Delgado, head of the Special Liaison Unit, and other police brass, in similar cases in prior months and years.
"With the issue of affiliate officers, we've had complaints about them, not only from community members, but from other police officers," Terry said. "I don't mean to say that every affiliate officer has done wrong; we don't mean to say that the core unit officers in the GLLU have done wrong; what we do mean to say is there are some. It's a small number, but it's still a disturbing number that need to be dealt with."
Terry said some affiliate officers that undergo the training given by activists from LGBT organizations like DCTC have said offensive things, and others have failed to absorb the lesson materials — if they're even awake, he noted. He also said that a supervisory person needs to be in attendance at every training session — not just sometimes — and that the person in a position of authority needs to take action to address problems with specific officers if training volunteers indicate that the officer seems to be exhibiting hostility towards members of the LGBT community.
"We've mentioned the problems of training to police academy staff and others," Terry continued. "So for them to say, under oath, that these issues have not been raised with MPD, is completely false."