The Metropolitan Police Department is investigating the death of a transgender woman who was stabbed yesterday at a bus stop in the District's Benning Heights neighborhood, on the border of Northeast and Southeast D.C.
According to police reports from the Sixth Police District, the woman was stabbed at the bus stop at the intersection of East Capitol Street SE and Sycamore Road NE at around 8:15 p.m., Thursday, Feb. 2.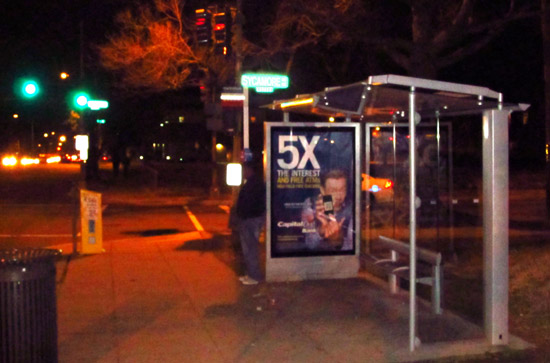 Bus stop at East Capitol and Sycamore NE
(Photo by JD Uy)
According to a press release from the D.C. Transgender Coalition (DCTC), an altercation between the victim and her attacker broke out at the bus stop, which resulted in the victim being stabbed in the cheek. A third person at the bus stop reportedly chased after attacker, but ceased pursuit in order to assist the victim upon realizing she was in serious need of medical attention.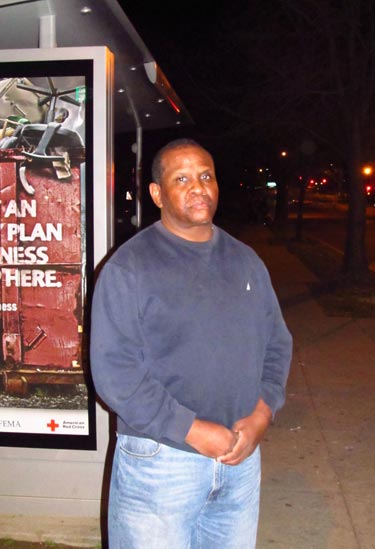 Alvin Bethea, father of JaParker (Deoni) Jones, at the bus stop where the incident took place
A press release from MPD states that witnesses flagged down a Metro Transit Police officer who responded to the scene, finding the woman suffering from her wounds and unconscious. Officers from the Sixth District, as well as units from D.C. Fire and Emergency Medical Services, also responded to the scene.
WUSA reported the victim was transported to PG Hospital Center in critical condition. According to MPD, the victim died at 2:35 a.m. today, Feb. 3. The victim has not yet been identified by police.
UPDATE: At approximately 4:30 p.m., Feb. 3, Mara Keisling, executive director of the D.C.-based National Center for Transgender Equality identified the victim as 22-year-old Deoni Jones. DCTC's Jason Terry provided the same information. MPD has not yet confirmed the victim's identity.
DCTC has asked members and allies of the transgender community to notify them if they know of anyone who is missing, in hopes of identifying the victim. DCTC also took local media outlets to task for incorrectly referring to the deceased as a "man living as a woman" and for emphasizing the discovery of her natal sex in their news coverage.
"We condemn in the strongest possible terms the transphobic language deployed by several media outlets last night and this morning," DCTC's Jason Terry said in a Feb. 3 statement. "While we certainly agree that the general public needs to be aware of trans communities' losses and successes, it is imperative that members of the press refer to trans people in a way that respects each person's gender identity or expression."
MPD is asking anyone with information to call 202-727-9099 or submit anonymous tips via text to 50411. MPD currently offers a reward of up to $25,000 dollars to anyone providing information leading to the arrest and conviction of a person wanted for any homicide in the District.
Police have released this video of a person of interest: