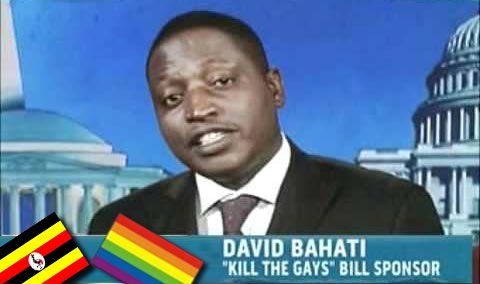 [Image: Screen capture of Uganda Anti-Homosexuality Bill sponsor David Bahati's appearance on MSNBC.]
As the Associated Press claims that Uganda's newly re-introduced Anti-Homosexuality Bill (AHB) directly conflicts with the President Yoweri Museveni's foreign policy agenda, today Jim Burroway of Box Turtle Bulletin reported that the bill is so broadly worded that it could incriminate any clothed individuals who accidentally touch.
The AHB seeks to punish any promotion, abetting or practice of homosexuality with steep fines, life imprisonment and even death. But according to Burroway — who has been tracking Uganda's anti-LGBT atmosphere for years — writes that the law's definition of "aggravated homosexuality" is broad to the point of absurdity:
…the new definitions provided by the proposed legislation would greatly open the possibility for conviction to just about anyone who has simply bumped into or brushed up against an accuser with an axe to grind.
Look again at Clause 2, 1.c. A person, under this clause, can be sent to a Ugandan prison for life for merely "touching" someone, which under the definition provided under the first clause which includes touching "any part of the body" "with anything else" (a finger? a foot? a ten foot pole?) "through anything."
All of which means that someone can "commit homosexuality" even if they are fully clothed and there is no actual skin-to-skin contact. All that is required is "touching" with the perceived "intention" of committing the act of homosexuality, and that act, in turn, is defined as any same-sex "sexual act", which itself is broadened so as to "not necessarily culminate in intercourse."
The aggravated homosexuality section also adds extra punishments if the offender has HIV or provides any stupefying "drug, matter or thing" to their "victim."
Even though Bahati himself has vowed to remove the death penalty from the final version, local activists report that the newly republished bill still contains it.
Neverthless, the bill also contains a broad view of what constitutes a "homosexual offense," using discriminatory language to vilify gays as promiscuous, pedophilic predators.
The bill itself purports to protect Uganda's cultural, religious and family values from "sexual rights activists seeking to impose their views of sexual promiscuity" and states that "same sex attraction is not an innate and immutable characteristic." It also explicitly connects homosexuality and gay adoption with child sexual abuse, corruption and child pornography.
It then goes on to prescribe seven years prison time for anyone who aids, abets, counsels or procures a gay person; anyone who supports a gay rights organization; and anyone who possesses or transmits gay pornography. In addition, it levies a $172,800 fine and up to three years prison time for anyone who fails to report a homosexual "offense" to authorities within 24 hours of its discovery.
Since the bill's initial introduction in 2009, political leaders in Canada, France and the European Parliament have all denounced it, with the U.K., Sweden and Germany threatening to cut Uganda's foreign aid if it becomes law.
Quickly after word of the bill's reintroduction was announced this last week, the U.S. State Department and Ugandan government quickly voiced their opposition to it.
The Ugandan House Speaker said the bill would need no reconsideration by the Legal and Parliamentary Affairs Committee, making opponents fear the possibility of a quick passage. However, the Associated Press doubts that, seeing as the bill has never been seriously voted on by parliamentarians and "lacks the political blessing of Ugandan President Yoweri Museveni, who says it undermines his foreign policy agenda."
In the meanwhile, Amnesty International issued a statement last week calling the bill, "a grave assault on the human rights of all Ugandans, regardless of their sexual orientation or gender identity." They added:
The bill introduces draconian provisions on top of Uganda's existing prohibition on consensual same-sex relations, which already violates international norms.
The bill would significantly hamper the work of human rights defenders and others who find themselves in conflict with the law merely by carrying out their legitimate activities.
The knock-on effect of passing this bill would reach far beyond gay and lesbian people in Uganda, impeding the legitimate work of civil society, public health professionals, and community leaders.
Whether the bill passes or not, a recent University of Colorado study suggests that the political divisions over its existence will still negatively impact the country's citizens, no matter their sexual orientation.