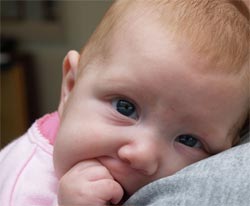 Today, the Virginia legislature took two steps toward passing a bill allowing private adoption agencies to refuse adopting to same-sex couples based on "religious or moral beliefs." Sen. Jeffrey McWaters (R) and Del. Todd Gilbert (R) introduced the bill which passed 8 to 7 along party lines in the Senate committee and 71 to 28 in the state House.
If the full senate passes the measure, which is not certain because opponents of the bill would only need to win one Republican vote in the evenly split chamber, and Gov. Bob McDonnell (R) subsequently signs the bill as expected, it could cost the state millions.
According the D.C.-based Children's Defense Fund, in January alone, Virginia had 5,927 children in foster care with only 663 adopted that month.
The 2010 census shows that more than 14,000 same-sex couples live in Virginia. The legislation could effectively disqualify all 14,000 from financially caring for the thousands of children still in Virginia state care.
Depending on their age, each child in foster care costs the state anywhere between $368 and $546 per month; thus, in the month of January alone, unadopted children cost Virginia taxpayers a minimum of $1.9 million to $5 million.
The national adoption advocacy group Childrens Rights estimates that 25 percent of all Virginian orphans end up placed in facilities rather than family foster homes. In addition, unadopted children who age out of state care have higher rates of mental health problems, unemployment and homelessness, potentially costing taxpayers even more money.