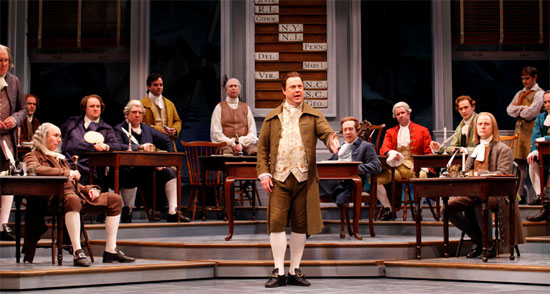 "1776" at Ford's Theatre
Why should the National Archives have all the fun? For the next couple of months, Ford's Theatre has cornered the market on celebrating the Declaration of Independence, virtually wrenching it from its carefully shadowed showcase and thrusting it into the spotlight of the Broadway musical 1776.
There it becomes a character unto itself, guiding the statesmen of the Second Continental Congress in Philadelphia as they struggle to articulate the reasons they're willing to ignite revolution and bring a new nation into the world. And by the time the president of Congress, John Hancock, and his cohorts have agreed on a statement they can put their, um, John Hancocks on, the document feels as though it's ready to burst into a song of freedom as lively as any of the ditties Sherman Edwards penned for the 1969 show.
Of course, Edwards and librettist Peter Stone breathe new life not just into the declaration but into the lives of the men who shaped it: Thomas Jefferson, John Adams, Benjamin Franklin and a host of others whose names can so easily lie dormant in the pages of history books. Springing to full-blooded life onstage at Ford's under the assured direction of Peter Flynn, the Founding Fathers of 1776 can be a horny, harried lot, yearning for their faraway wives as much as they yearn for liberation from a faraway tyrant.
Brooks Ashmanskas anchors the show as a brooding, disgruntled Adams, desperately trying to stoke the fires of independence in a body that's overwhelmingly skittish about the idea until Franklin (a charmingly wry Christopher Bloch) derails a doomed vote and buys time with a proposal to craft a public document explaining the American Colonies' grievances with Great Britain. The strapping young Jefferson (William Diggle) gets the writing gig, although it becomes clear to Franklin that no work will get done unless he sends for Jefferson's wife, Martha (Erin Kruse), to ease the wordsmith's sexual frustration.
Kruse, in one of only two female roles, makes radiant work of "He Plays the Violin," Martha's less-than-subtle ode to her husband's multiple talents, musical and otherwise. Kate Fisher faces a more formidable task as Abigail Adams, admirably fleshing out a character who is only represented in letters to her husband and his imagined conversations with her, and whose songs are less appealing. ("Saltpeter" is not a lyric that one wishes to hear nearly as much as Edwards employs it.)
1776




To May 19
Ford's Theatre
511 10th St. NW
$15-$60
800-982-2787
www.fords.org
Ashmanskas, alone onstage at the end of the night as he tackles the climactic number "Is Anybody There?" with more gospel/Idol flair than feels right for John Adams, would have you believe that's the moment you paid for. But he's been upstaged moments earlier by the true showstopper: Gregory Maheu, outstrapping Diggle's Jefferson in the strapping young man department with a smoldering portrayal of Edward Rutledge, the South Carolinian who ranges from genteel seduction to seething rage (in the powerful number "Molasses to Rum") as he makes it clear that independence will not come to pass unless anti-slavery language is removed from the declaration.
So as the show closes with Tony Cisek's stately set aglow in red – lighting designer Nancy Schertler markedly forgoes white and blue – the signed document itself may feel like it's ready to break into a song of freedom, but you're reminded that it's freedom bought at a high human price. And freedom that won't be fully realized for a long time to come.