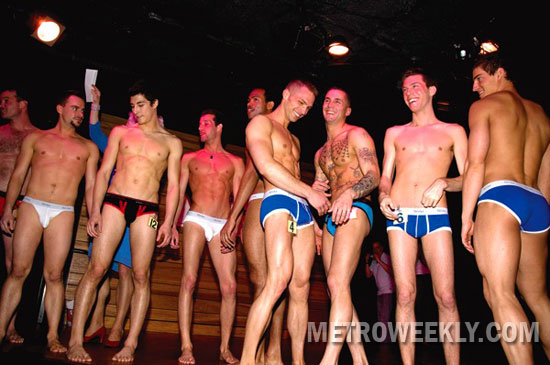 2011 Team DC Fashion Show
(Photo by Julian Vankim)
Years ago, a model passed out onstage at Team DC's Fashion Show.
"He hadn't eaten that day because he thought he was too fat – which, of course, is completely absurd," says Team DC's Brent Minor.
This Saturday, March 10, brings the eighth annual fashion show, an event that raises as much as $9,000 each year for the gay sports-focused nonprofit organization. The success of the show actually provided the seed money to start Team DC's College Scholarship Program for LGBT student athletes five years ago. Team DC hopes to make both the fashion show and the scholarship fund a prototype for other cities to emulate. The ultimate goal is to provide more support for openly gay student athletes around the country.
"The models are competing at a higher level than when this first started," Minor says. The winner among the 13 contestants competing in this year's model search earns $500 plus a professional shoot with photographer Robert Mercer, as well as other magazine and calendar feature opportunities.
And to keep their energy levels high enough to avoid passing out, models also now get free snacks, provided backstage. Minor emcees the show as his drag alter ego Barbara Bush, along with Matt Bamford.
The fashion show raises funds for Team DC from the $10 ticket price as well as an auction in which people, as Minor explains, bid for clothes "right off the models." Universal Gear, Leather Rack, Fireboy Underwear and Thomas Christopher Apparel are among those donating apparel.
Auction items, says Minor, "run the gamut: everything from a simple swimsuit to a leather harness.
"And jockstraps. Don't forget the jockstraps." '
Team DC's Fashion Show and Model Search is Saturday, March 10, from 8 to 10 p.m. at Town Danceboutique, 2009 8th NW. Tickets are $10. Call 202-234-TOWN or visit towndc.com or teamdc.org.