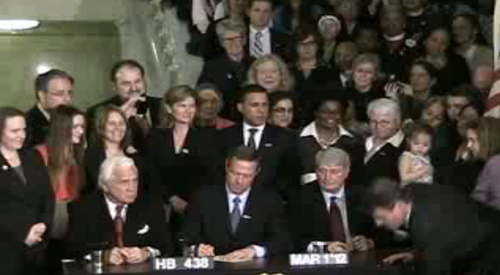 [Image: Gov. Martin O'Malley (D), flanked by Senate President Thomas V. "Mike" Miller (D-Calvert, Prince George's counties), left, and House Speaker Michael Busch (D-Anne Arundel Co.), right, signs the Civil Marriage Protection Act into law. Behind O'Malley is his wife, Catherine Curran O'Malley, and Lt. Gov. Anthony Brown.]
Maryland Gov. Martin O'Malley (D) signed into law HB 438, a bill legalizing marriage equality, in a 5 p.m. ceremony held at the State House in Annapolis Thursday evening.
Saying, "We are one Maryland," he declared, "The bill is signed," at 5:15 p.m.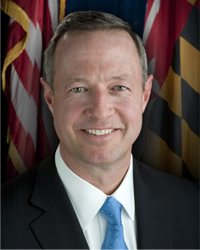 Although the bill will not take effect until 2013 and faces a referendum effort, O'Malley's signature makes Maryland the eighth state and ninth jurisdiction to legalize same-sex marriage. Marriage equality is also legal in Massachusetts, Connecticut, Iowa, New Hampshire, Vermont, New York, Washington state and the District of Columbia. The Washington law also faces a referendum effort.
O'Malley, who made the bill part of his 2012 legislative agenda, spent a large portion of the first half of the General Assembly's legislative session trying to wrest favorable votes from reticent lawmakers.
In 2011, a separate marriage equality bill passed the Senate but was killed in the House of Delegates. This year, supporters of the measure focused their attentions on the House members, particularly white Democrats representing more conservative districts and African-American lawmakers from Prince George's County and Baltimore City, who had opposed the bill because of outcry from their constituents and several influential ministers in their districts.
In the end, 15 of 18 delegates from Baltimore City, 23 of 24 delegates from Montgomery County, and 13 of 23 delegates who represent parts of Prince George's County voted in favor to give the bill the bulk of support it needed to pass the lower chamber, 72-67. Delegates representing parts of Howard, Anne Arundel and Baltimore counties split their votes, and those from Southern Maryland, Western Maryland and the Eastern Shore primarily opposed it.
In the Senate, which was the only chamber to hold an official vote in 2011, the debate over the issue was less contentious, and, as even opponents had predicted, the measure eventually passed, 25-22.
Opponents, led by the Maryland Marriage Alliance, the chief organization pushing to repeal the marriage equality law, have vowed to collect more than the 55,736 signatures required to force a referendum on the law onto the 2012 ballot.
According to the Maryland Board of Elections, no more than half of all signatures may be from any one county or Baltimore City. Opponents of the marriage equality law must submit more than one-third of the total number of required signatures, or 18,579, by June 1. They are expected to meet the necessary requirements for a referendum.
If approved, the referendum campaign promises to be costly and hard-fought, with both sides spending millions of dollars to educate and engage voters to encourage them to come to the polls. A recent Washington Post poll shows Marylanders are evenly divided over same-sex marriage, with 50 percent in supporting it and 44 percent opposing it.
If upheld by voters via a referendum, the bill will go into effect on Jan. 1, 2013.
Following O'Malley's signing of the bill, several organizations that played prominent roles in the bill's passage issued statements celebrating a major milestone for the state's LGBT community.
"The Governor's signature today puts Maryland on the road to fairness for all families," said Joe Solmonese, president of the national LGBT organization Human Rights Campaign (HRC). "This victory was possible thanks to the hard work of so many on the ground in Maryland. Our congratulations go to Governor O'Malley and our legislative allies who were incredible leaders in this effort."
HRC contributed significant resources to the Marylanders for Marriage Equality coalition, including hiring senior staffers and spearheading the field, communications and faith outreach efforts of bill proponents.
The pro-equality group Catholics for Equality also released a statement praising O'Malley for his efforts to pass the bill. O'Malley becomes the fifth Catholic governor to sign marriage equality into law, behind John Lynch of New Hampshire, John Baldacci of Maine, Andrew Cuomo of New York and Christine Gregoire of Washington.
"Without his pro-equality Catholic leadership, this legislation would not have reached his desk today," the organization said of O'Malley in a press release. "This bill not only betters the lives of lesbian and gay couples and their children, but the lives of our Catholic families throughout the state…Today's celebration in Maryland is a reminder to all American Catholics that our faith community plays a critical role in advancing LGBT equality."
Catholics for Equality also praised the leadership of Catholics in the General Assembly, including Sen. Rob Garagiola (D-Montgomery Co.), Del. Heather Mizeur (D-Montgomery Co.) and Speaker Michael Busch (D-Anne Arundel Co.), for their efforts to navigate the bill through the House and Senate.
"My partner and I have been at this for two decades, and finally, this day has come," said Lisa Polyak, a board member for LGBT rights organization Equality Maryland. "We are so happy for the coming generation of children and families, that they will know the protection and respect that a marriage license can bring. We are tremendously grateful to Governor O'Malley and legislators of Maryland who have created this victory of equality and dignity for families in Maryland."
But other supporters warned that, even though they are in the midst of celebrating this victory, they have a long fight ahead of them.
"I celebrate with my gay friends today," said Ezekiel Jackson, political organizer with 1199 SEIU, one of the organizations under the umbrella of the Marylanders for Marriage Equality coalition. "But we are clear that a referendum may be on the horizon. There is something uneasy about total strangers deciding whether my gay friends can marry and whether their kids can be protected equally under the law. All Maryland's children, no matter who their parents are, should have the same legal protections."