An out gay Asian-Pacific Islander-American brought together a coalition of voters, boosted by support from the LGBT community and labor, to beat out sitting Councilmembers Marion Barry (D-Ward 8) and Jack Evans (D-Ward 2) as the top vote-getter in the race to become one of 15 delegates who will represent the District at the 2012 Democratic National Convention in Charlotte, N.C., in early September.
According to certified results released March 7, Gregory Cendana, the executive director of the Asian Pacific American Labor Alliance, an affiliate of the AFL-CIO, took 187 votes to become one of four male delegates representing the District's Voting District 1, consisting of Wards 1, 2, 6 and 8; compared to Barry's 138. Evans, who ran with Barry and four others on the "DC for Obama 2012" slate, won 134 votes.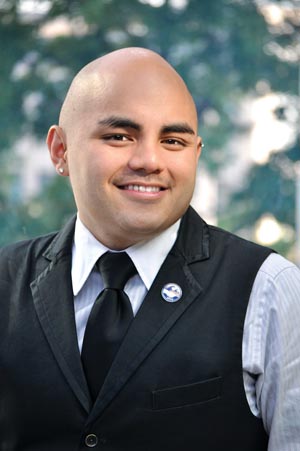 Gregory Cendana
(Photo by Todd Franson)
Coming in fourth place was Jeffrey Richardson, former president of the Gertrude Stein Democratic Club and current head of the Mayor's Office of GLBT Affairs, with 108 votes.
"This campaign was run on the principle of uniting all groups within D.C.," Cendana told Metro Weekly after the unofficial vote totals were released. "This was really about the grassroots, being able to prove that organizing works."
Cendana, 25, one of four winners of the 2011 Metro Weekly Next Generation Award, said his win sent a clear message to the District's political establishment.
"We appreciate the work they've done in the past, and their history with the District," Cendana said of politicians like Barry, first elected to office in 1972 as a member of the school board, and Evans, a councilmember since 1991. "But it's important to bring in new people and build broader coalitions in order to maximize the opportunities and potential that the District has."
Cendana, who describes himself as a "proud Filipino," said he owes his election to the labor community and the volunteers and donors who helped run his campaign. He also said that as a representative of the Asian-Pacific Islander community, he hopes to push the Democratic Party to establish stronger relationships with that community and be more responsive to the community's concerns.
"The 2010 census shows that Asian-Pacific Islanders are one of the fastest-growing communities," Cendana said. "We need to be able to engage them and work, in coalition with other groups, to build a collective agenda."
Asked whether the official Democratic Party platform should include an endorsement of marriage equality, Cendana was more measured, saying he saw many opportunities to use the party platform to discuss issues of LGBT equality. He also said it was the responsibility of delegates, particularly LGBT delegates, to emphasize the importance of LGBT rights.
"I feel this conversation around marriage equality is inevitable," Cendana said. "Folks can have it now – or they will have it later."
District 1 voters also elected four female delegates, including one who will serve as the District's "alternate" 15th delegate. According to the certified results, Susan Meehan won 124 votes, with current Stein Club President Lateefah Williams coming in second with 115 votes, and Sheila Bunn, another member of Barry and Evans's slate, coming in third with 109 votes. Denise Lopez, in fourth with 103 votes, will serve as the District's alternate delegate.
Taken together, the victories of Cendana, Richardson and Williams mean that 20 percent of the District's delegates will be LGBT people of color. Five other members of the LGBT community, including David Meadows, another former Stein Club president and staffer for Councilmember Michael A. Brown (I-At Large) and Alexander Padro, an ANC 2C commissioner and the executive director of Shaw Main Streets, also ran for the District 1 slots.
In Voting District 2, consisting of Wards 3, 4, 5 and 7, no known members of the LGBT community were among the seven delegates – three males and four females – elected to the convention. The LGBT person with the largest number of votes in that race, former Stein Club treasurer Alexandra Beninda, received 82 votes.