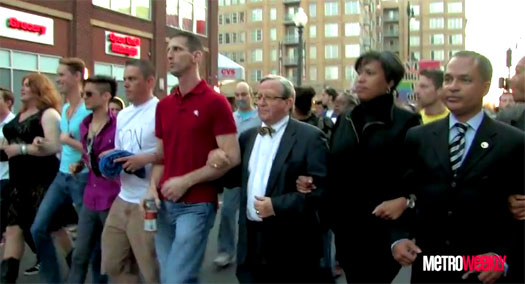 Members of Washington's LGBT community held a march and vigil on March 20 following the shooting of a gay man at an IHOP restaurant in Columbia Heights and the beating and subsequent robbery of another in the city's Park View neighborhood.
The march, originally organized by friends of the robbery victim, was dedicated to the two men, as well as other members of the LGBT community who have been targeted for assault or other crimes.
Marchers trekked across a 2.7-mile course that ran through many of the city's central neighborhoods before ending at Cobalt nightclub, where a fundraiser was scheduled to help one victim pay his bills.
The shooting and robbery were just two in a string of seemingly bias-related attacks directed against LGBT individuals, including transgender people, lesbian youth and the LGBT homeless.
Read more about this event and the spate of recent crimes that brought the participants together.