There was a time when René, 21, growing up in Aurora, Ill., was in the shadows, suffering the bullies in elementary and middle school. Then he discovered martial arts and entered high school a changed person. "I went in very confident," he says. "Peppy, preppy, full of school spirit. When there was a spotlight, I had to be in it. I crave attention. I'm not shy in front of a camera." Living in Norfolk, Va., till he leaves the Navy in August, René is in D.C. regularly, hitting Town and Secrets. Though he likes attention, he's not sure he's ready for Secrets' amateur night. "I'm very confident in my body," he says. "The thing is, I get hard." Look for René out and about before he moves to his next chapter, which he hopes is heading to the Culinary Institute of America to study pastry and management.
What's on your nightstand?
A glass of water and lube.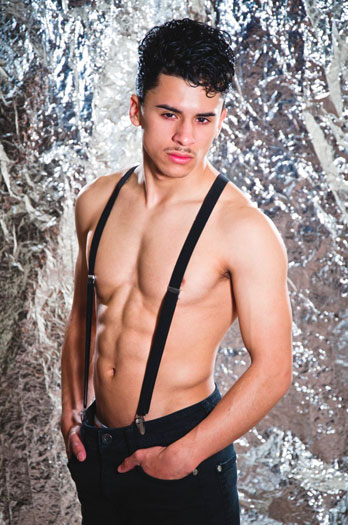 What's in your nightstand drawer?
There's no drawer.
Where do you keep the condoms?
Underneath the bed.
What are your television favorites?
I love watching Glee. I'm a big musical nerd.
What's your favorite musical?
Wicked.
What was your favorite cartoon when you were a kid?
Rugrats.
What superhero would you be?
Storm or Iceman.
Who's your greatest influence?
My mother. I get a lot of strength and independence from her. She's never once asked for help. That's what she taught me.
What's your greatest fear?
Not succeeding in life. Not becoming the person I want to become.
Pick three people, living or dead, who you think would make the most fascinating dinner guests imaginable.
Paula Deen, Ricky Martin and Justin Timberlake.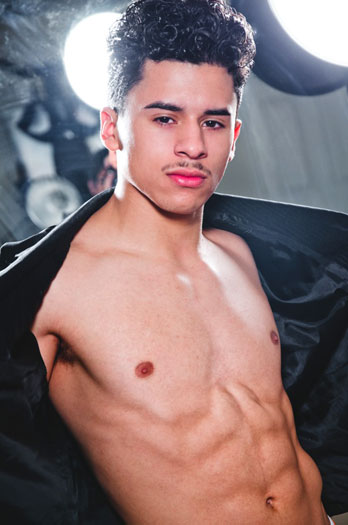 Coverboy: René
(Photo by Julian Vankim)
What would you serve?
Chocolate-covered strawberries and a big, fancy cake.
You know Paula Deen is diabetic?
Right! Shoot. I'll use Splenda.
How would you describe your dream guy?
Tall, dark and handsome. Pretty eyes. And big… ego.
Define good in bed.
Someone who takes charge.
Who should star in a movie about your life?
John Leguizamo.
Who was your first celebrity crush?
Justin Timberlake.
Who gets on your nerves?
Childish people.
If your home was burning, what's the first thing you'd grab while leaving?
My iPhone.
What's your biggest turn-on?
A smile.
What's your biggest turn-off?
Bad teeth.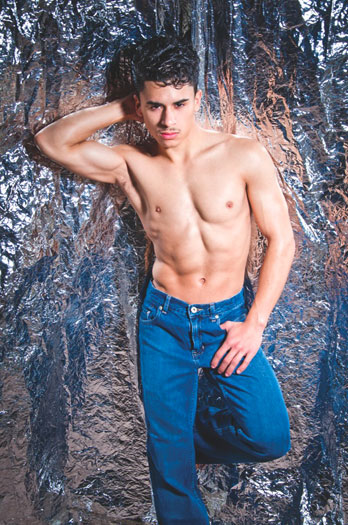 What's something you've always wanted to do but haven't yet tried?
Skydiving.
What's something you've tried that you never want to do again?
Get in a car accident. We flipped.
Was everybody okay?
Yeah.
Boxers, briefs or other?
Boxer-briefs.
Who's your favorite musical artist?
David Guetta.
What's your favorite website?
Facebook.
What's the most unusual place you've had sex?
Under a bridge in Norfolk.
What position do you play in the big baseball game of life?
Catcher.
What's your favorite retail store?
American Eagle Outfitters.
What's the most you'll spend on a haircut?
$20.
What about on shoes?
$95.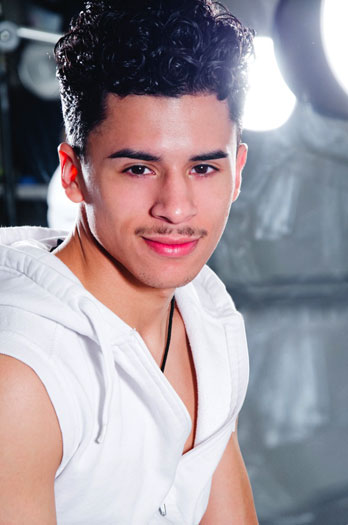 What's your favorite food to splurge with?
Pizza, hands down. All-meat.
What's your favorite season?
Fall. I love the smell, the beautiful autumn colors.
What kind of animal would you be?
A snow tiger with ice-blue eyes. They're beautiful.
What kind of plant would you be?
Bird of paradise.
What kind of car would you be?
Jaguar. Black.
What are you most grateful for?
Just being alive.
What's something you want more of?
More money.
State your life philosophy in 10 words or less.
Do it right, all the time.