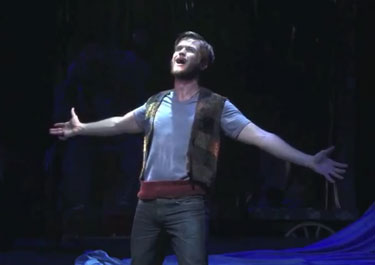 "Brother Russia" at Signature Theatre
While 1776 celebrates the Declaration of Independence at Ford's Theatre, revolution is brewing at Signature Theatre, too, in the world premiere of the musical Brother Russia. Composer Dana Rowe and lyricist-librettist John Dempsey, previously showcased at Signature with The Fix and The Witches of Eastwick, have turned their attention to Rasputin, the mystic who was an influential adviser in the waning days of Tsar Nicholas II's rule before communism's rise.
Director Eric Schaeffer and his design team – including Misha Kachman (set), Kathleen Geldard (costumes) and Colin K. Bills (lighting) – have crafted a compelling environment, sort of a Slavic punk realm in which a ragtag theater troupe puts on a show about Rasputin, whom their leader, Brother Russia (John Lescault), claims to be. And August Eriksmoen's orchestrations make a compelling case for much of the rock-driven score, which is performed with gusto and, in the case of Doug Kreeger (as Rasputin) and Natascia Diaz (as Princess Anastasia), downright brilliance.
BROTHER RUSSIA



To April 15
Signature Theatre
4200 Campbell Ave., Arlington
$63-$86
703-573-SEAT
signature-theatre.org
A promising first act yields to a shakier second, which feels padded out with formulaic, uninspired fare such as "Vodka" (all about… no, I'll let you guess) and "The Great War," as well as a stream of angsty anthems that become increasingly hard to tell apart. The show culminates in an overlong, bloated speech by Brother Russia about the power, relevance and necessity of theater. The thing is, brother, when that's your message to people who've bothered to come to the theater in the first place, you're preaching to the choir in a most unnecessary way.