[UPDATE: Organizers of the planned March 3 service for Frank Kameny announced today, March 2, that the service is "on hold in deference to the estate of Dr. Kameny." Inquiries were directed to the law offices of Ackerman Brown PLLC. Glen H. Ackerman, managing partner at the firm, who represents Kameny's heir, Timothy Clark. Ackerman issued a statement reading: "The Estate of Dr. Franklin E. Kameny was surprised to learn from a member of the local media that Bob Witeck, of Witeck Communications, Inc., disseminated a press release announcing the gravesite service planned for Saturday, March 3, 2012 at Congressional Cemetery are on hold in deference to the Estate." Witeck, a longtime associate of Kameny, had no comment.]
Frank Kameny, the local pioneer of the modern gay-rights movement who died Oct. 11, 2011, at 86, was fond of telling the story of his interaction with the infamous former head of the FBI, J. Edgar Hoover.
In the mid-1960s, Kameny's Mattachine Society of Washington – predecessor of the Gay and Lesbian Activists Alliance of Washington, D.C. – was sending its Gazette newsletter to several political leaders, including Hoover, prompting a request from an FBI agent to meet with Kameny. Along with the Gazette editor, Kameny agreed to the meeting.
"Mr. Hoover wanted to be taken off our mailing list," Kameny recounted in a 2006 interview with Metro Weekly. "Going in with a great deal of trepidation, we had come out realizing, with a great deal of amusement, that many members of the Mattachine Society were concerned lest they be on lists maintained by the FBI, and the FBI was even more concerned that they were on lists maintained by the Mattachine Society."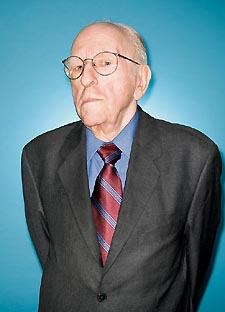 While Hoover may have been able to avoid Kameny in life, a Feb. 13 announcement grants Kameny the last laugh eternally: Kameny's ashes are to be interred in D.C.'s Congressional Cemetery, also the final resting place of Hoover – as well as Hoover's longtime companion, Clyde Tolson.
According to Bob Witeck, CEO of Witeck Communications and a longtime friend of Kameny's, there will be a gravesite ceremony Saturday, March 3, to commemorate the interment of Kameny's ashes. The grave is to be marked by a headstone from the U.S. Veterans Administration in acknowledgement of Kameny's service in the Army in World War II, during which he saw combat duty in Europe.
As Kameny said, "As a gay veteran of World War II combat I didn't come back here for second-class citizenship."
Witeck says the military acknowledgement is especially poignant in that the March 3 weekend will also see Servicemembers Legal Defense Network (SLDN) holding its 20th anniversary gala in D.C. Ending the ban on out gays and lesbians serving in the armed forces – which SLDN helped achieve – was of particular importance to Kameny. Witeck says that members of SLDN will participate in the graveside ceremony.
"We've had two memorial occasions for Frank," Witeck points out, adding that he expects the March 3 ceremony to be relatively understated. "This is more for closure, giving Frank a final resting place."
Notably, that resting place will be in the same area of the cemetery as the gravesite of Leonard Matlovich, who came out as a gay member of the Air Force on the cover of Time magazine in 1975 and whose cemetery marker reads, "When I was in the military, they gave me a medal for killing two men and a discharge for loving one."
Richard J. Rosendall, a college student when he met Kameny in 1978, and Charles Francis, instrumental in preserving the documents and artifacts of Kameny's lifetime of activism, chose the site at Congressional Cemetery, made possible in large part by the organization Helping Our Brothers and Sisters (HOBS).
"It's across the path from where Barbara Gittings and her partner, Kay Lahusen, will be interred," Rosendall says. Gittings, who died in 2007, and Lahusen were longtime activist allies of Kameny. "It's under a cherry tree, right on the path, easily accessible."
Aside from the military gravestone, Rosendall says there will be a pink granite marker inscribed with the phrase, "Gay is Good."
"We decided to keep it very simple," says Rosendall. "We didn't think it necessary to do a whole curriculum vitae, but erred on the side of understatement. So we simply got Frank's slogan that he was very proud of and wanted to be remembered by."
The Congressional Cemetery ceremony, Saturday, March 3, begins at 11 a.m. If entering by the cemetery's main gate at 18th Street and Potomac Avenue SE, walk two blocks to the corner of the cemetery's Henderson and Ingle Streets, where the ceremony will occur.