"Fran had a meeting with TV Land to pitch some ideas for some shows," recalls Jacobson. "They said, 'If there's something you were to do what would it be?' And she said, 'Oh, that would be about me and my ex-husband who is now gay.' And then she started to pitch other ideas and they said, 'Don't bother, because we just bought that one.'"
The resulting sitcom, Happily Divorced, starting its second season Wednesday, March 7, stars Drescher as Fran Lovett and the superlative John Michael Higgins as her recently out ex-husband, Peter. On the show, the characters remain friendly and supportive of each other, all the while intruding on the other's personal life for maximum comedic irritation.
Drescher is beyond thankful that Higgins, a straight actor known for his work within the Christopher Guest improv ensemble, accepted the role.
"John really wasn't interested in playing gay parts, until this part came along," she says. "The idea of playing a man that, at 45, comes out and has lived his whole life up until then as a straight man, and is just learning how to integrate into the gay community, was fascinating to him."
"The whole journey of Peter is that he comes out in his 40s," adds Jacobson. "When I came out and went into a gay bar, I didn't know everything. Somebody called me 'Daddy' and I said, 'Wha-?' And a friend said, 'That was a good thing, don't worry.' I had to learn it all.
"[The character of] Peter is totally oblivious and uncomfortable and he's figuring it out. The first season, he dressed a little more nerdy and stuff because he wasn't exposed to it yet. He'd never been into a gay bar. And now he's beginning to pick up all the things that a lot of gay men do who live in West Hollywood."
Last season's Happily Divorced featured several familiar guest stars, including an uproarious, sexually charged turn from Drescher's former Nanny co-star Charles Shaughnessy. This season, Jacobson hints, will have its own share of special guests, including an appearance by Morgan Fairchild on the season premiere.
He also reveals, a trace of mischievous glee in his voice, that "in the first show, the last scene we have a little exposure of Fran than has never been seen on television before. That's all I will say. And you're the first person that knows this – because we literally got the clearance for it 10 minutes ago from 'Standards and Practices."
"I love working TV Land," croons Drescher. "I feel very blessed in this economy to be able to keep working in the craft that I love, and inviting people into the Lovett home every week. And hopefully at the same time exposing people to opening their minds and hearts to the normalcy of being gay."
METRO WEEKLY: Let's start with your life growing up in Flushing, N.Y.
FRAN DRESCHER: I grew up in a middle class, provincial part of Queens in the '60s and '70s. I had two loving parents, and I have one older sister. I always wanted to be in show business. I always had aspirations to live a life bigger than the one I knew. I liked things I saw in the movies and on TV and aspired to attain those things and realize my creative talent. And I think I was like I am now: sometimes funny, always intelligent and ambitious.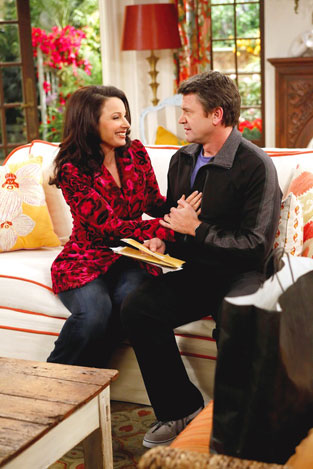 MW: The first time I encountered you was in the movie This Is Spinal Tap, where you unforgettably portrayed publicist Bobbi Flekman. When The Nanny emerged in the '90s, I watched it religiously. It was one of the first times I'd ever felt such a powerful connection with a Jewish character on television.
DRESCHER: TV is such a fast medium that when you're writing, executive producing and starring in a show, the closer you can play a character to yourself – or something that you're extremely familiar with – the more rich the character's going to be, and the less of a broad stroke its characterization is. When we were still writing the pilot script for The Nanny, the network wanted the character to be Italian. And I said, "We can't write that. We don't know that, it's gonna come out too broad. It's not going to have the specificity and richness of detail that I can bring to the show if Fran is Jewish." I really dug my heels in on that, even though this was a big break and I needed the break. But I wasn't gonna do it wrong.
MW: The show worked well because you stayed honest to who you were. You created an identifiable bond with the audience.
DRESCHER: A lot of people bonded with the character [of Fran Fine]. In fact, it was very surprising to the network, especially, that the show was so lovingly embraced by the Sun Belt, the Midwest and throughout the world – including very unlikely places like Saudi Arabia and Egypt and Jordan and the Emirates republic – so much so that the Knesset in Israel honored me for transcending political borders with humor as a strong Jewish character.
MW: Why do you think that happened?
DRESCHER: Different places, different cultures, different reasons. But I think everybody understands working class versus aristocracy.
MW: There was also a lot of warmth and love conveyed in that show.
DRESCHER: I like doing shows about love. And the global message in Happily Divorced is love as well.
MW: Happily Divorced is based on your life.
DRESCHER: It's certainly inspired by my life.
MW: You and Peter were married for how long?
DRESCHER: We got married in '78, and got divorced in '99.
MW: How did he come out to you?
DRESCHER: About two-thirds of the way through the marriage, he told me he thought he was bisexual, but that he'd never acted on it. He felt that he had an attraction to men, but he wanted to live his life with me. He loved me and he loved our life. I eventually left because I felt very suffocated in the marriage and unhappy. Two years after we divorced, he came out to me. He didn't even say he was gay. He just said, "I started dating men."