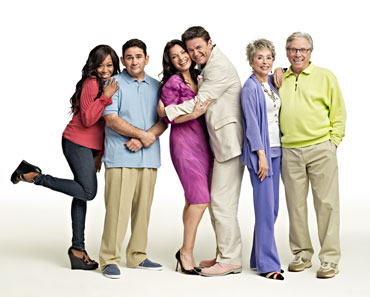 Cast of "Happily Divorced"
MW: How did that feel?
DRESCHER: Relief, because I'd felt guilty that I left him. He didn't want the marriage to end. He was very upset and felt very abandoned and alone, and was very angry with me. When [The Nanny] ended, he moved to New York – he couldn't get far enough away from me. So I felt very guilty. I was already in love with a man 16 years my junior, living my life.
Then I got diagnosed with cancer and our manager – we have the same manager – called him. As soon as she told him, he burst into tears, and in that moment all of his anger melted away. All that was left was the love, and he wanted to come and be by my side, but I already had somebody and I wanted to be with that person.
But we began to rebuild our friendship and to try to reinvent ourselves. And in the 13 years since the divorce, we've managed to completely find each other as best friends and soul mates again.
MW: Has Happily Divorced been cathartic for the two of you?
DRESCHER: In ways you might not expect. We miss the house we used to live in together, so we sort of copied that for the house that the couple lives in. We get to see each other every day and be creative together and revisit our relationship and reflect back on the way we were. So I think it is cathartic. Being creative and writing about what you know, especially if it's something that is inspired by your own personal experience, is really a wonderful, wonderful ride to take. It's illuminating. We're really loving it.
MW: In all those years, how did you not sense that perhaps you were with a man who might be gay?
DRESCHER: Here's the thing: We met when we were 16. We didn't have a lot of experience. We loved each other. We had a great friendship. We made each other laugh and we had an active sex life. And he was in show business, he was an actor, he was musically inclined and the metrosexual was in vogue. So I guess you see what you want to see.
MW: Looking back over that part of your life, do you have any regret?
DRESCHER: Regret about what?
MW: Well, for instance, when you're with somebody for so long and then it ends, for whatever the reason, do you have any regret that it continued for as long as it did?
DRESCHER: I think I might have felt that way at one point early on. You know, when did he figure this out? Was it walking down the aisle marrying me and thinking he was gay? But I think it's unhealthy to look back with any regret. Still, something that we've explored comedically in the series is that Fran blames Peter for robbing her of her youth. Now here she is middle-aged out in the meat market.
MW: In 2000, you learned you had uterine cancer. But you were misdiagnosed for years before they even arrived at that diagnosis.
DRESCHER: I was on a two-year, eight-doctor odyssey in search of a proper diagnosis. Everywhere I turned, somebody had something else to say, but nobody knew I had uterine cancer. And by the grace of God, even after all that time, I was still in stage one, which is the most curable stage for cancer. A radical hysterectomy cured me with no post-op treatment, only follow-up doctor visits.
MW: Your experience caused you to lose faith in the medical community.