Last weekend, Hal Sparks helped Chely Wright launch an LGBT center in Kansas City, Mo. Of course, Fred Phelps and his nearby Westboro Baptist Church were there to protest.
"It's actually a badge of honor at this point when those douchebags show up," Sparks says. "It's like, 'Okay, good, I'm on the right path."'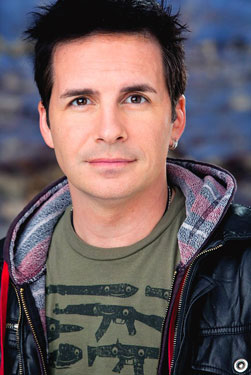 Hal Sparks
(Photo by Michael Higgins)
"The day I wake up," he continues, "and the Westboro Baptist Church says, 'You know what, Hal Sparks has a point,' I've got to pack it in, or question my doctor's issuance of medication."
Sparks, who is straight, is best known – to gay and anti-gay folk alike – as Michael, a lead character on Showtime's Queer as Folk. Sparks is proud of his work on the show's five seasons, and the fact that he's still in the spotlight seven years later. "By being on it and continuing to have a career," Sparks reasons, "puts the lie to those who say playing a gay character will ruin you."
These days, the Los Angeles-based actor is a regular on the Disney XD cable channel's new hit series Lab Rats, and the lead singer and guitarist for rock trio Zero 1. Sparks is also a regular on progressive radio stations nationwide, as the host of the weekly Hal Sparks Radio Program and a weekly guest on The Stephanie Miller Show. Last year he toured with Miller and actor John Fugelsang on the high-grossing Sexy Liberal Comedy Tour.
This weekend, Sparks appears at the Arlington Drafthouse for two nights of stand-up. Expect plenty of jokes at the expense of Fred Phelps, Rush Limbaugh and others opposed to the progressive cause, which Sparks has been active in even before Queer as Folk, when he volunteered for the AIDS Project Los Angeles and Project Angel Food.
Says Sparks, who says he grew up with "hippy-ish" parents in Kentucky, "I can't think of a time when I was against gays being married, women voting and having the right to choose, and every minority having protection under the law."
Hal Sparks performs Friday, March 16, and Saturday, March 17, at 9:55 p.m., at Arlington Cinema N' Drafthouse, 2903 Columbia Pike, Arlington. Tickets are $20. Call 703-486-2345 or visit arlingtondrafthouse.com.