While New York may be the city that never sleeps, Saturday, March 24, was particularly busy with the gay agenda. Sure, there was that infamous Black Party. On the slightly higher-profile side of things, however, it was time for the 23rd Annual Gay & Lesbian Alliance Against Defamation (GLAAD) Media Awards, presented by Ketel One and Wells Fargo, with celebrities such as Bernadette Peters, John Stamos and Wendy Williams.
Perhaps not as famous – but easily one of the people of the hour at the GLAAD soiree – was Metro Weekly's senior political editor, Chris Geidner, whose stock rose a measure upon receiving the Outstanding Magazine Article award for his series marking the 15th anniversary of the passage of the Defense of Marriage Act (DOMA). Geidner tied in the category with Carolyn M. Brown, receiving the award for her Black Enterprise feature, "Black & Gay in Corporate America."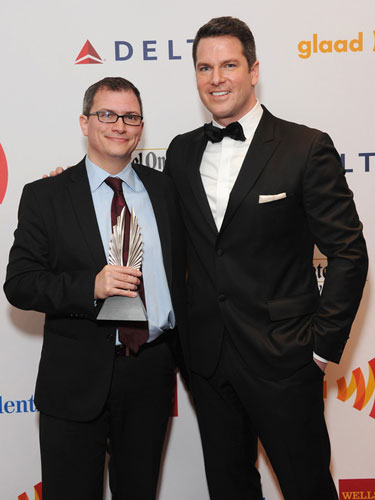 Metro Weekly's Chris Geidner (l) with MSNBC's Thomas Roberts
(Photo by WireImage)
"Carolyn Brown's piece was a really important article, because it was looking at gay issues within the black community, in a mainstream black publication in a very direct way," says Geidner. "That's important."
He also considers context when assessing the value of his own winning submission, as well as the vehicle used to deliver it.
"It's important that GLAAD recognized the ongoing importance of LGBT media in exploring our stories, despite the increased coverage of LGBT issues across the media," he says. "There are still things that LGBT media can do, like devote four issues to cover basically a historical issue that you wouldn't find in a mainstream publication."
Sean Bugg, Metro Weekly co-publisher, congratulated Geidner, saying, "All of us at Metro Weekly are proud of the work that Chris put into his history of DOMA. It's the kind of thorough, engaging and relevant journalism that's our focus at the magazine, and it's an honor to see that recognized by GLAAD."
There was even a bit of icing on Geidner's kudos cake.
"Backstage, after receiving my award," Geidner shares, "I did get to say 'hi' to Cory Monteith from Glee."
Monteith, along with Glee co-star Naya Rivera, served as host of the program at the New York Marriott Marquis. A full list of awardees is available at glaad.org.