We can all be forgiven a bit of nostalgia for that kinder, gentler time when "American values" and all they connote, were more an organic concept than today's factory-farmed commodity. A rendering of that kinder, gentler time is Eugene O'Neill's comedy Ah, Wilderness, in which an early 1900s coastal Connecticut family find themselves dealing with the lovelorn dramas of their 17-year-old son Richard, whether they are in the mood for it or not. A little idealized, a little mythic, this is a life neither O'Neill nor we ever had, and yet its charm is as undeniable as saltwater taffy.
Of course, there are a few things that catch in the fillings here — O'Neill's chronically motherly Essie, for one — but, quibbles aside, O'Neill sought to entertain with this play and he does. From Richard's desperate attempts to appear worldly to the awkward moments in which his father Nat tries to advise him on the perils of loose women, the laughs come fast and thick, even in the midst of the heartache. Certain aspects of the plot have been recycled often and badly enough to steal some of the play's thunder, but thanks to a superb cast and the sure, swift direction of Kyle Donnelly, nothing of O'Neill's wryest comment and humor is lost.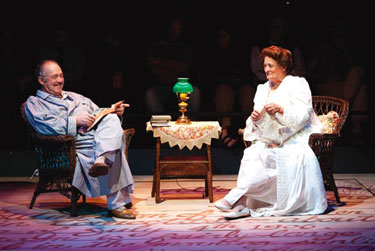 Foucheux and Robinette in "Ah Wilderness"
(Photo by Scott Suchman)
Set mainly in the Miller family living room, the drama begins when the ardent Richard is banned from courting a neighbor's heavily guarded daughter, Muriel, due to his then-scandalous literary leanings. As the family prepares for the Fourth of July, the couple's nascent romance is nipped in the bud when Muriel supposedly pens Richard a "Dear John" letter. Devastated and enraged, Richard has a minor fin-de-siècle meltdown in which he visits a bar of ill-repute before returning home to face the consequences of his close encounter with debauchery.
An ensemble piece with a core of serious Washington talent, there is never a moment's lag. Rick Foucheux, as father Nat Miller, and Nancy Robinette, as mother Essie, truly make Richard's long-suffering parents their own. With priceless understatement, Foucheux imbues O'Neill's brusque but loving father with memorable presence, an ironic edge and superb comic timing. Crafting a clever mixture of sincerity and tongue-in-cheek good humor, Robinette keeps O'Neill's potentially insufferably clucky Essie warm and convincing. Kimberly Schraf, as Lily, the spinster aunt who pines for but will never marry the charismatic alcoholic Sid, nicely evokes the mixture of pain and anger that lives within this woman. Carrying off his drunk scenes energetically but, thankfully, with a crucial restraint, Jonathan Lincoln Fried gives Sid a preoccupied, unsettled edge that works better as the play progresses. Running quietly parallel to the drama of young love raging front and center, Sid and Lily's story perhaps speaks most to O'Neill's own less than idyllic past.
As Richard, the young man besotted with Muriel (played with convincing delicacy by June Schreiner), William Patrick Riley aptly captures the frenzied single-mindedness of youth, if not quite the melancholy and more epiphanic moments. Still, he brings a believable guilelessness to Richard's excitable reaction to Muriel's apparent rejection and his eagerness to reunite at the first given opportunity.
All of the younger players here bring color and dimension to their characters, but special mention must be made of Pearl Rhein in the role of Belle, the woman of ill repute. Working an unusual charisma and great comic timing, Rhein turns a stock character into someone riveting – no easy feat.
AH, WILDERNESS




To April 8
Arena Stage
1101 6th St. SW
$40-$85
202-488-3300
arenastage.org
And yet, even beyond the laughs and a few reflections on loves won and lost, there is a resonance to this play that O'Neill could never have predicted. Perhaps most obviously, there is the reminder to modern audiences that it wasn't so long ago that the young, questing American mind didn't discover the world through television and tweets but through books. What a concept.
And one such book in Richard's beloved collection is the 12th century poem known as the Rubaiyat of Omar Khayyam (from which the play takes its name). A work that has intrigued American philosophers, hippies and the intellectually curious for generations, it should be on every bookshelf (okay, Kindle!) and yet scarcely receives a mention these days. Even more intriguing, the author Khayyam, an astronomer/mathematician/philosopher, wrote from an enlightened period in the history of Persia, a country known today as Iran.
Thus, smack-dab in the middle of a nostalgically rendered comedy of American family values is something of fascinating 21st century significance. How cool is that?