Jeffrey Johnson has been part of Washington's cultural fabric for 15 years, even if he got his start on the stages of Columbia, S.C. But his artistic forays are not limited to the nation's capital. His famous portrayal of Jackie Kennedy Onassis's eccentric cousin Edith "Little Edie" Bouvier Beale is legendary, and he's taken his interpretation – some might go so far as to say unnerving re-creation – of her very brief cabaret act beyond D.C. to San Francisco, Los Angeles and New York.
Here at home, it's likelier to be his character Special Agent Galactica, a pink-wigged chanteuse with hints of Barbarella and Las Vegas. Washington is also where he did time as the director of the now-closed Ganymede Arts, a dedicated LGBT theater company.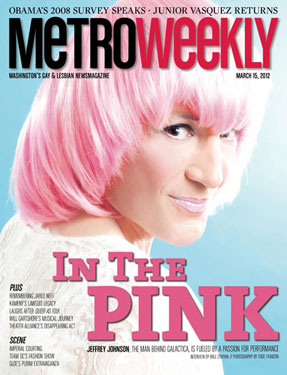 Jeffrey Johnson: Galactica
(Photo by Todd Franson)
Long before any of that, there was a little boy in the even smaller town of Horseheads, N.Y., nestled into a valley along the Pennsylvania border.
"I did a play," recalls the 44-year-old Johnson. "I was the only fifth grader to be in the sixth-grade play." He doesn't remember the title, but does recall he played the part of Shakespeare, decked out in one of his mother's frilly blouses.
"Because I was in that, I knew that I wanted to do it. From childhood, I always knew what I wanted to do. I wanted to perform. I always had dreams of it."
He guesses he's known he was gay just about as long, though he didn't come out till he was long gone from Horseheads. But it's not as if he had time for a social life. Instead, Johnson's was a childhood primed for the pool, with nearly every free hour dedicated to making him a world-class swimmer – possibly an Olympian.
Today, a world away from Horseheads and the fifth grade, Johnson sits in his Logan Circle-area apartment. His 14-year-old dachshund, Cletus, is at his side. Johnson has just returned from a Saturday-afternoon workshop.
"A friend of mine has her own studios out in Bethesda. She has a bunch of high school- and middle school-aged voice students. She's found that a lot of them want to always work on auditions, get to know how to audition for things. She's spent a lot of time in her classes teaching stuff like that instead of really focusing on voice, so she's starting these 'how to audition' workshops."
Whatever the audition, it's a pretty good bet Jeffrey Johnson can teach them a thing or two.
METRO WEEKLY: As with the workshop today, what advice would you have for a young person considering a show-businesses career?
JEFFREY JOHNSON: It's not so much that there's a specific thing to say. There's not a catchall. You relay the fact that there are many upsides to doing it, and downsides. You have to be your own biggest fan, because sometimes you're going to find that no one gives a damn. You hit highs and you hit lows. You can't really get into it expecting you're going to make a lot of money, that you're going to be the next Brad Pitt. It has to be a passion. You have to get more out of it than money.
MW: You simultaneously need to have a strong ego and no ego. Would you say that you have —
JOHNSON: An ego?
MW: Passion.
JOHNSON: Most definitely. I don't make money off it, that's for sure. [Laughs.] It's a passion. I don't know what else I could do.
MW: Olympic swimmer?
JOHNSON: I tried that. I never got there. The passion just never carried me through. The passion didn't outweigh the bullshit, basically, for me to say, "Yes, I can deal with this, because this is what I really want." I didn't really want it. It was just something that I naturally fell into as a kid and excelled at.
MW: When you were that kid, the teenage small-town swimmer, where would you go to get into trouble?
JOHNSON: To tell you the truth, I never had that experience. I was at swim practice. I didn't have a childhood, really. From 7 all the way through high school was: Get up in the morning at 5. Go to swim practice. Go to school. Go to "dry-land workout," either aerobics or weight training. Go to swim practice again. Go home, eat dinner, do homework and go to bed. And start all over the next day. Weekends were swim meets. That was my childhood.
MW: Sounds a little Spartan.
JOHNSON: It was full of experiences, but not full of childhood experiences. The very first year I jumped in a pool, I qualified for the state swim team. They knew right off the bat, "Okay, he's a natural." So my parents were very focused on getting me every opportunity in that realm. For the longest time, I was all about it. It felt good to excel. But then I would come home and see all the kids out on the street, playing, all of that, and never really took part in that.
MW: Were your parents more like your coaches, or were they just being supportive of what you wanted to do?
JOHNSON: My dad was excellent in sports as a kid. He could've been a professional golfer, basketball player, baseball player — he was that good. Never had any support from his folks. Never came to any of his games or matches. Basically, they were so against him doing anything extracurricular that my grandfather would drive past my dad walking home at night from school, as he would come home from work, and wouldn't pick him up.
So I think my father was driven to make me feel supported in that way. But he was also the equivalent of a stage mom, as far as sports. He was a sports dad. He was dead-set on making sure that everything I did was only to make me the best swimmer I could possibly be. My mom was more of the nurturing one. She went along with it, because you didn't argue with my dad. Also, she agreed with his reasoning, but not necessarily his methods. It was intense.
I figured out that in the 13-and-a-half years that I swam, I had a total of about two months off. That week, maybe two days here or there – there was not a lot of time outside of the pool.