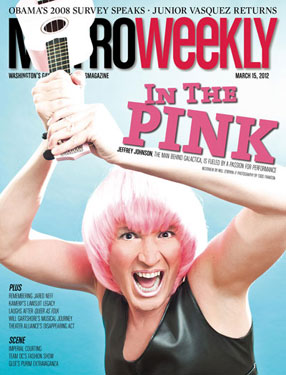 MW: Were you under a lot of pressure?
JOHNSON: I didn't know, really, what I was missing till I was in college. Everyone else was talking about, "We used to do this, go there." I never had time to get into trouble with the neighborhood kids. I never did sleepovers at a friend's house. My friendships were not that kind.
I realized after the fact that by having that kind of childhood, I did miss out on stuff. But, also, because of that childhood, there's a lot of discipline that I have. I think the reason why I can still get paid a few pennies here and there for the art that I do, still have the drive and passion for it, is because I have discipline. I don't give up on it. I don't just throw it by the wayside. There's sacrifice. I made sacrifices as a kid without knowing it, and there are sacrifices you make as an artist – if that's what you want to do.
MW: With sports, with the swimming, there are benchmarks. You win a trophy. You place in a meet. But art is a much different arena. What gratification do you get from performing that's similar to being "statewide all-American" or whatever?
JOHNSON: To be an artist, you have to be selfish to be selfless. The selfish side of me, I get to express myself in creative ways. I have an outlet to do that. And I have people who are interested, who will be there. I learn so much about myself by doing this. I love that, just learning about me as a person and why I'm here, why I choose the things that I do. The selfish part gets its say.
The selfless part is seeing people laugh, and enjoy themselves, and want to come back. To have an excitement that maybe they didn't come with. All the cliché things are actually very true and very real. To make a person laugh and then cry, or to be silent and sit and listen, it's a wonderful feeling to know that what you do can take someone else someplace in their own life. That's the selfless part of it. Art is about the experience that the observer has. If no one really cares about it, then your art's not really going to exist very much. [Laughs.]
MW: If there was no audience, I suspect you'd still be doing it.
JOHNSON: But that's not going to be fulfilling. Both parts need to be balanced.
MW: And that desire goes back to childhood. You got to college and something happened on that front. What?
JOHNSON: I was recruited by a bunch of different colleges. I was flown out to Georgia, to Indiana, to Iowa. My mother was like, "Just go, they're paying for it. You might get there and like it." Of course the University of Hawaii calls me and my mom's like, "No, you're not going there."
So I was all set on the University of Georgia, because I really liked the swim team. I was going as a journalism major. But then I went to South Carolina thinking, "I'm going to Georgia, but my mom's forcing me on this plane to South Carolina." As I got off the plane in Columbia, I saw a phonebook with something on it about celebrating the arts that year. It said right on it, "More theaters per capita than New York City." That really caught my attention. So I left there agreeing on the University of South Carolina. They had a decent journalism school. They were in a city. And they had more theaters per capita than New York. [Laughs.]
It was terrible. It was horrible. I quit after my first year. I dropped the scholarship my parents wanted me to work all my life for. I hated it. It was everything I didn't want to be. I could take grueling – this was abusive. I did not like any of the swimmers. They were really nasty, disgusting people. The coach was a jerk. He was supposed to be the top-ranked American in his event for the 1980 Olympics, the ones we boycotted. He was a bitter, bitter guy. I hated it. It wasn't worth it. So that's where my swimming career came to an end.
That same year, I auditioned for a production of A Chorus Line. I'd never danced in my entire life. It was sponsored by the Columbia City Ballet and a well-established theater there. So there were all these best ballet people in the state of South Carolina, and me, some swimmer who likes to sing and dance and has aspirations of being a star. But I was cast as one of those "God, I hope I get it" people, and good-bye and you come back at the end. You sit out the rest of it.
It ended up that one of the people had to drop out, and the choreographer said to me, "Look, we're going to put you in this part" – a part that makes the final cut. "You've got to come to every class you can come to at the ballet school – jazz, tap, modern, whatever – for free. But you've got to look like you can dance. I'll give you any time you need, but you've got to put the time into it." And I did, for five months, basically just working on Chorus Line choreography. That pretty much sold me from there on in.
I dropped journalism four weeks into my freshman year and became a theater major. [Laughs.] And I never graduated.
MW: How was the production?
JOHNSON: Chorus Line went great. It went great. I think that's when my dad figured out that this is a passion of mine. I think he recognized it, because closing night was one of the most major things in my life at that point.
I went back into this hard-to-get-to corner of the stage, maybe a half hour after the show had closed. People were hanging around. My parents were waiting for me. And I just kind of broke down crying. It was like, "What am I going to do? I am going to miss this." You get the adrenaline. You get the focus. There's such an element of fulfillment – and then it's gone. Final applause, curtain down. I'm much better now, don't get as attached as I did when it was all new. But I broke down. "Can't catch your breath" type crying. And, all of a sudden, I look over and my father's just standing there looking at me. I tried to compose myself, and he just said, "It's okay. It's okay." Which floored me. I think seeing me that emotional over something, that's when he got the picture.
From there on, I just started doing plays, acting in plays. One thing led to another and I had all these opportunities. I directed, I choreographed, I acted, I musically directed, I wrote.
MW: And you came to D.C. in 1997. Why here? The typical answer would be "met a boy."
JOHNSON: Well, I did meet a boy. But I also had family who lived on the outskirts. Also, D.C. was a great theater town, and it wasn't New York. By that time, I decided that I didn't want to be another actor in New York City. I knew I wouldn't be happy just being an actor.
I came to D.C. and just threw my résumé all around town and thought nothing of it. Studio 2ndStage called me in because they were looking for understudies for Hair, and they offered me a part of an understudy. I actually got to go on a couple times. Then Keith Alan Baker, the head of 2ndStage, offered me my first starring role. The next summer they did a show called Kerouac, which was about Jack Kerouac and Ginsburg and all of that. It was one that we all kind of wrote ourselves.
MW: And you played Kerouac?
JOHNSON: Yeah. From there, it just went. Joe Banno saw it and asked me to audition for Much Ado About Nothing at the Folger, and I got that. I got to know Chris Henley that way, so they asked me to come to Washington Shakespeare Company. That's how all of that started happening.
MW: In the context of you and D.C., how big a part is Ganymede Arts?
JOHNSON: Major.
MW: And Ganymede is no more?
JOHNSON: It's gone. It's history