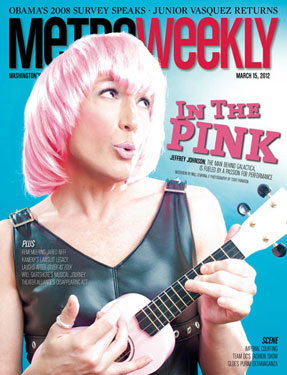 MW: It was the only specifically LGBT theater company in this very gay town, right?
JOHNSON: Right. It was originally Actors' Theatre of Washington, founded in 1992. It was not a gay theater company. It was a theater company [for] actors and budding directors who weren't being given the opportunity to direct or act in certain roles. If they wanted to do a project, that's where they could do it.
In 2000, they were going to close it, because they didn't need it anymore. Jeffrey Keenan, who no longer lives here, said, "Give it to me." He took over and changed it to be the gay and lesbian theater company. They just didn't have a lot of funding – well, like we ever had a lot of funding. By 2003, he was sick of it, trying to get people to support it. At the time, we were doing Naked Boys Singing that first time, and he had invited me to stage it. I guess he was impressed enough by the staging that – I was in Florida visiting my folks and my phone rang – and he said, "In two weeks, at the end of June, I'm closing Actors' Theatre. I will give it to you if you want it, but other than that, I'm closing it." I was like, "Yeah, give it to me!" My dream was to run a theater company. That's how I got hold of it. That was 2003.
What we inherited was a company that had no books. There was no board. There was no staff. I took over $30,000 in debt. … What I saw as my beacon of hope was that it had a 2,000-person mailing list. If we were to start our own theater company, it could take us two years to get 2,000 people on a mailing list. "We're fresh, we're new, and we have 2,000 people we can tell." That's what I was handed. We got out of debt, but we never made any money.
MW: Well, I guess you made $30,000.
JOHNSON: We made $30,000. Exactly. [Laughs.]
MW: And produced some popular shows.
JOHNSON: I'm proud of everything we did. Maybe outside of two or three reviews, we had a stellar critical record. Some of the best reviews I've read in the 14 years I've been in town were for Ganymede productions. I'm not saying that to pat my back. I'm proud of that. Ganymede did a lot of great things.
When I first took over, I was not a "gay political person." In fact, to me, I always lived my life as far as being gay as it's just an aspect of who I am. I don't define myself by that. I can define myself as being gay just as easily as I can define myself as being a piano player or being Pisces.
MW: Did Ganymede get to a point that it was more limiting than liberating?
JOHNSON: No. Actually, Ganymede liberated me a little bit more. It made me understand why it was important to have a gay theater company – mostly because I had to make the argument for it a lot in the beginning.
MW: What is the argument?
JOHNSON: It was the only theater company fully dedicated to telling the gay life, whereas you look at any theater in town and it's a percentage. There's the gay play you've got to do. There's the black play you've got to do. There's the musical. The comedy. Maybe we can fit in a play about this racial group, or this religious group. The gay story is only part of the formula, not the formula.
MW: And it closed because you decided it was done?
JOHNSON: It was funding. But, ultimately, I believe it was support from the gay community. I think they came to see our stuff and appreciated it. I don't think they supported it. I don't mean that in a bitter way, just a matter of fact.
It was, I believe, the political mindset of D.C. They want to be able to say, "We donate to Studio Theatre." "We donate to the Kennedy Center." Who wants to say they donate to Ganymede Arts? The whole room would say, "Who?"
We were always trying to just milk anybody we could for five cents towards getting the next play open. The board got to the point where they wouldn't even allow me to plan on having a play unless we had the funding already there. I was like, "How can you raise funding for something that isn't happening?" The board was trying to be very smart about it, because in the early days we were like, "We're going to do this play. We're going to do it." It's the whole Judy Garland, Mickey Rooney – if they got the money or not, they're going to do a play. And cross their fingers that hopefully the ticket sales will pay for it. And that's how we were in our most successful years. Come hell or high water, this play is going to happen.
But after [board president] Noi [Chudnoff] died, and because the economy was tanking, the board got extremely cautious. And trying to get anybody to give money was really, really hard.
MW: I look at your creation of Galactica and the role of Little Edie, and wonder which is the jewel in Jeffrey Johnson's crown.
JOHNSON: I think people who see me and know me as Galactica only think of that. Little Edie. To me it's all acting. Some people consider me a drag queen. That's the farthest from what I think I am. I feel myself an actor. Just happens to be that either this character I created, or this character I'm doing, is a woman. But that doesn't make me a drag queen. I'm not belittling a drag queen. It's just not what I am.
MW: There's a phrase I read recently: "gender sterilizing." You wrote it. What does it mean?
JOHNSON: It's sort of like with Galactica. One of the reasons I think I don't fit into "drag queen" is because I never try to pull off that I'm a female. I want people to keep seeing the guy. You hear the guy. I don't sing in some falsetto. I want the thing of Galactica being that once you recognize it's a guy, you get caught up in the whole artifice of the feminine qualities and the play on male-female roles. You get lost again. Yes, I have boobs, but Galactica is not a chesty woman. She has enough lump there to show that she might have a breast, but I still want people to see a male body. I don't wear drag-queen makeup. More than base, I just wear a little blush. I wear a little bit of eye-shadow, a false eyelash. I basically put on makeup as if I was a woman just going out walking.
With [Ganymede's production of] Les Liaisons [Dangereuses], for example, I wanted to do that play because as I read it, I thought, "Let's do it all in drag." Then I thought, "No, this doesn't need any camp." The humor of it is a black, dark, biting, wicked humor, and camp would totally destroy it. The funny thing is, some of the female characters in this play have much more masculine qualities. The male characters, some of them, have much more feminine qualities. So, how interesting would it be if we "gender-sterilized" the play, and had all men just to create a blank slate? The closest we could get to genderless was just to have one gender. But not do it in drag. Do it still in men's clothing. Play women, but still present yourself as a man. The one womanly thing I had was a headband.
The audience could take it so many different ways. They could take it at face value. They could say, "This is a comment on gay society today." I wanted people to see their own story, however they wanted to interpret what that meant.
MW: Edie Beale was definitely a woman, and your performance of her has been acclaimed. When can fans see her again?
JOHNSON: I don't know. To be honest, she surprised me when she showed up in December. After I did the little tour the year before, I said, "Okay, I'm putting her away for a little while. Then, in November, I thought, "Why not?" A night or two of Little Edie, just to see if the interest is still out there. And it sold out.
MW: Galactica, meanwhile, is on deck. You've got this new, ongoing Black Fox happy hour lined up. What can we expect?
JOHNSON: It's a jazz club, so the music I'm going to focus on is a cross between cabaret with more of a jazz flavor. The two musicians I've got, I haven't worked with them before, but we've been rehearsing. Both of them are very prominent musicians in the jazz community. There's the bassist, Ethan Foote. He's amazing. And Aaron Myers is keyboards. Aaron actually plays the second show on first and third Fridays at Black Fox. And he's amazing.
Audiences are going to have so much fun. It's unique. There's nothing like it. They can have great food, awesome drinks and wonderful entertainment, surprises and laughs – and let it all hang out with the "pink-haired one."
Special Agent Galactica's Black Fox Happy Hour begins Friday, March 23, running the second and fourth Friday monthly, 6 to 9 p.m. No cover. 1723 Connecticut Ave. NW. For more information, call 202-483-1723 or visit pinkhairedone.com.