Early last year, Will Gartshore broke his wrist curling. "A freak curling accident," he concedes. "Very Canadian."
Didn't know Gartshore was Canadian, eh? Since the turn of the millennium, Gartshore has become one of the more prominent actors on the D.C. theater scene. But the 36-year-old was born and raised in Sault Ste. Marie, a town on the border with Michigan in Ontario. "It's beautiful country," he says, "but it's up there."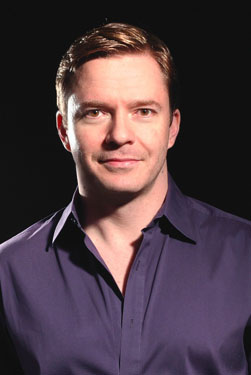 Will Gartshore
(Photo by Todd Franson)
And yes, Gartshore played curling as a teenager – he was even the leader of a team at his town's annual winter carnival. The Winter Olympics inspired him to rekindle his skill. "I [finally] found a spot to go to do it," he says, "but it was an aborted attempt because before I could really get my hand on a rock [my wrist] was in six pieces."
It's one reason Washington didn't see much of Gartshore until last fall, when his wrist had healed enough to take on new acting roles, including Parade at Ford's Theatre and The Religion Thing at Theater J. For the next two Mondays, Gartshore offers a cabaret, informed by recent life experiences — principally that broken wrist — as well as showing off his interest in pop music, from Neil Young to Coldplay. But don't worry: "There's always the Sondheim and the musical theater stuff," he says. Pianist Christopher Wingert and violinist Joan Singer will accompany Gartshore.
"It's got a lot of humor, and I think it's got heart," Gartshore says of his cabaret, titled All The Kings Men: Broken Ballads with a Stiff Upper Lip. And it's actually the only thing on Gartshore's theater plate right now. Next up: a vacation to South America, which was originally scheduled for last year. "[But] there was no way I wanted to go to Rio with a cast on my arm," he says.
And because he couldn't work out at the time, he concedes, "I didn't look that good in a Speedo."
Will Gartshore's cabaret is Monday, March 19, and Monday, March 26, at 8 p.m., at the Round House Theatre, 8641 Colesville Road, Silver Spring. Tickets are $15. Call 240-644-1100 or visit roundhousetheatre.org.