Tennis superstar, breast cancer survivor, and gay rights activist Martina Navratilova was not able to conquer the ballroom on ABC's "Dancing With the Stars" this week and was the first to be sent home.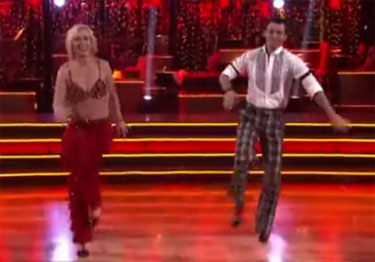 Her first dance was a fox trot with male partner, Tony Devolani. In her introductory sequence, Navratilova joked about having to wear high heels, and then confessed that she felt insecure because she is "not that feminine." Judge Len Goodman said it was "too careful" and "insular." Carrie Ann Inaba and Bruno Tonioli remarked on her beautiful appearance, but made some technical suggestions. She received a score of 20 last week.
This week, she danced a jive with Devolani in a rather revealing top. The judges however were not impressed with her performance and gave her a final score of 17. Tonioli remarked, "My darling, I think that serve went into the net." She admitted that she "blew it" before receiving the second week's lowest score of 17.
In the end, Navratilova and Devolani received the lowest combined score as well, and they were voted off the show.