As seasonal temperatures rise, attacks with some indication of anti-LGBT bias are also apparently increasing.
A shooting at a Columbia Heights IHOP Restaurant and a combined robbery and assault at Irving Street and Georgia Avenue NW grabbed the most attention. Both have been initially classified as hate crimes. Both attacks also left two gay men in the hospital and inspired friends of the victims to organize a march and fundraiser, scheduled for Tuesday, March 20.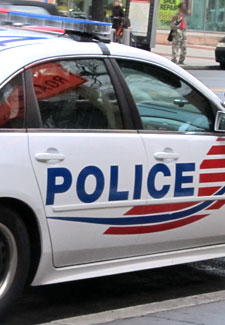 But a look at the past month reveals at least four other incidents that have singled out members of the LGBT community for their sexual orientation or gender identity, including more marginalized populations, such as transgender individuals, youth and the homeless.
On March 12, a transgender woman in her 20s was assaulted near the intersection of Mount Olivet Road and West Virginia Avenue NE, in the city's Trinidad neighborhood.
According to transgender activist Earline Budd, who knows the victim, the woman was attacked from behind by two male suspects and beaten unconscious. Budd points out that the woman was not robbed, which would seem to suggest she was targeted because she was transgender.
Budd says the victim required hospitalization for a concussion suffered in the attack.
On four separate attempts – the latest being March 19 – to retrieve the incident report from the Metropolitan Police Department (MPD), Metro Weekly was told the report was unavailable as it has not yet been written.
Also on March 12, two lesbian minors reported being stalked by a male suspect who threatened to rape them as they walked in the 4000 block of Minnesota Avenue NE, heading to the Minnesota Avenue Metro Station, 4:50 p.m.
According to the MPD report, the suspect approached the girls, ages 15 and 16, and stated, "Yeah, little bitch, I'll pull your pants down and rape you at the mother fuckin metro station; you and your dom," before continuing to follow them to the Metro station. The suspect, a black male in his 30s, was later arrested.
The incident report says that because of the domestic relationship between the girls, MPD's Gay and Lesbian Liaison Unit (GLLU) was notified and responded to the scene. However, the crime was classified as "felony threats" and is not being labeled a hate crime.
The area around the Minnesota Avenue Metro Station has served as the backdrop for at least two other anti-LGBT incidents. On Sept. 10, 2011, three transgender women reported being approached near the station by a man brandishing a gun. A month later, a gay male reported that his car, which he had parked in the 3400 block of Minnesota Avenue SE, had been vandalized with anti-gay graffiti and set on fire following several weeks of harassment by people in the area, who frequently attacked him with homophobic epithets.
A 24-year-old gay homeless man reported to the MPD that an acquaintance had threatened to kill him while he slept at a homeless shelter on the St. Elizabeth's Hospital campus, in the 2700 block of Martin Luther King Ave. SE, on the evening of Feb. 26.
According to the police report, the man was lying on his bed at the shelter when he was awakened by the sound of someone talking nearby. The man said he saw the acquaintance standing over his bed talking to other residents of the shelter, and then stated, "I should cut him now!" According to the victim, the suspect cuts hair for some residents of the shelter and keeps a blade with him. The incident has been labeled a hate crime.
According to the police report, the suspect is a slender black male with a dark complexion, in his 40s to 50s.
The incident at St. Elizabeth's follows an assault against a transgender woman four months ago, in December 2011, who was called homophobic slurs, threatened and struck as she walked past the shelter.
Another local woman was attacked at her workplace by a female coworker March 8. According to the MPD report, the attacker threw a dustpan at the victim and punched her in the face multiple times. The victim told police that her coworker had previously confronted her, saying, "I don't like you or your lesbian lifestyle." The victim also told police that her attacker's husband had recently left her for a man. The attack is listed as a hate crime.
Brian Watson, director of programs for Transgender Health Empowerment, tells Metro Weekly he has heard of several other attacks against transgender women in recent months that have not been reported to police. He says that transgender women remain less likely to report assaults because they are distrustful of police and because they believe they will be blamed for their attacks and accused of engaging in sex work.
Watson says he doesn't believe any of the recent LGBT attacks are related, but raises other concerns.
"There are many different people running around performing these attacks," says Watson, fearing a culture in the city hostile to LGBT residents. "Is it just a crime scene, or is this some form of hate against the community?"
Watson says that LGBT people, particularly transgender individuals, are often at risk because they are perceived to be "easy targets" for robbery or assault, and that some attackers believe police will not take any action if a crime is committed against a transgender person.
"If it's just pure hate going on, we need to have our community leaders step forward and do something," he says.
At a Feb. 29 City Council oversight hearing for the MPD, Jason Terry of the DC Trans Coalition (DCTC) aired a number of complaints or concerns regarding MPD's handling of cases involving transgender victims, including the quality of sensitivity training for GLLU affiliate officers, the closure rate for murders of transgender people, and the appearance of an inability to regularly track and provide updates on the development of crimes committed against transgender people.
The perception of indifference toward crimes against transgender people is also apparent in online forums, where people are allowed to vent more freely. One person, writing anonymously in response to a Metro Weekly article on the fundraiser and march for the victims of the IHOP shooting and robbery, posted the following comment:
"[W]hy does it take the attack of two gay guys to get the gayz in DC to organize a fundraiser and march when over the past year (and even just weeks ago) young trans women have been brutally attacked AND murdered on almost a monthly basis? (EVEN BY THE MPD THEMSELVES!). And what about the trans woman who was attacked but because she was KNOCKED OUT they don't consider it a hate crime? The self-proclaimed gay activists in this city should be ASHAMED of themselves. What, because these young folks weren't carrying iphones and ipads when they were attacked they don't count? …Obviously the MPD and the Mayor don't care much about them and it doesn't seem the majority of gays in this city do either."
Another reader, "brian," responded: "*Guest* makes some very valid points and observations. The violent assault on a trans woman on Mar 12th, which occurred in MPD's 5th District (WV Ave, NE/ Gallaudet U. area) was not even reported as part of the MPD-5D listserv Daily Report…not on the 13th, nor on the 14th. Is anyone at MPD-5D, besides GLLU, paying attention to assaults on trans women? One has to ask, was that intentional on MPD's part? And if so, why?"
A spokeswoman for the MPD countered claims of selective pursuit of crimes.
"Part One offenses," generally more severe, violent crimes, "are automatically posted to the listserv in the reports," Gwendolyn Crump, public information officer for MPD, told Metro Weekly March 19 via email. "No one is reviewing the incidents and deciding what to include." She added that she would be looking further into any possible discrepancies.
The group Gays and Lesbians Opposing Violence (GLOV), a program of The DC Center, thanked MPD for their "prompt action" in response to the attacks and offered support to the victims.
"We expect MPD to respond by increasing patrols in the affected areas and tenaciously investigating the crimes committed," GLOV's statement reads, in part. "As the weather warms, our community needs to be even more vigilant. Unfortunately, the historical trend indicates that higher crime, including bias-motivated crime, often correlates with warmer weather."