On Monday, March 19 — and, in fact, on more than 20 occasions since September 2011 — first lady Michelle Obama told supporters that the president's re-election is important because Supreme Court appointees will have an impact on "whether we can … love whomever we choose."
On Tuesday, Metro Weekly sought clarification on whether the comment was a reference to the possibility that the Supreme Court would decide whether same-sex couples would secure the same right to marry as their straight counterparts — and as the Supreme Court did in 1967 by prohibiting bans on interracial marriages in Loving v. Virginia.
White House press secretary Jay Carney said the comments about love were not about marriage.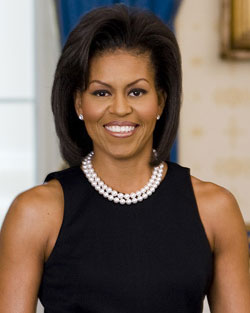 Michelle Obama
Instead, he said, "[S]he has said this before and has for some time, and that is a reference to the president's position on the Defense of Marriage Act."
Explaining, he said, "The president and first lady firmly believe that gay and lesbian Americans and their families deserve legal protections and the ability to thrive, just like any family does. The first lady has said she is proud of his accomplishments, including repealing 'Don't Ask, Don't Tell,' ensuring hospital visitation rights, and calling for the repeal of DOMA. And, obviously, our actions on DOMA and our decision not to defend DOMA is well known. That's what she was referring to."
When Lewis Carroll wrote Alice's Adventures in Wonderland, he wasn't referring to the White House.
But, after Tuesday, he might as well have been.
For example, when Alice was told, "[Y]ou should say what you mean" at the tea party, she hastily replied, "I do. At least — at least I mean what I say — that's the same thing, you know." She was, in response, reprimanded by the Hatter, who proclaimed, "Not the same thing a bit! You might just as well say that 'I see what I eat' is the same thing as 'I eat what I see'!"
With Carney's comments on Tuesday, he said that the first lady's words about "love" actually are about the federal benefits that those couples allowed to marry by their state government would be entitled to at the federal level if DOMA's federal definition of marriage didn't prevent same-sex couples from receiving them.
Richard Socarides, the former White House gay liaison and advisor to President Clinton, sounded incredulous.
"Especially in this context, 'love' and 'marriage' would seem to go together," he says. "The meaning seems pretty plain."
Plain, however, is not a word that comes up often anymore in discussions about President Barack Obama's views on marriage equality.
As a candidate for president in 2008, Obama supported civil unions but not marriage equality. The position, though frustrating for many supporters of LGBT equality, was plain.
Over the course of the president's three years and two months in office, things have gotten – as Alice would say – "curiouser and curiouser."
In October 2010, Obama sat down with a group of progressive bloggers. In response to a question from AmericaBlog's Joe Sudbay about his position on marriage equality, Obama reiterated his 2008 position but then said, "I also think you're right that attitudes evolve, including mine."
This became a repeated refrain in the coming months, with Obama giving a similar answer to The Advocate's Kerry Eleveld and then, on Dec. 22, 2010, to the entire White House press corps in response to a question from ABC's Jake Tapper.
Then, on Feb. 23, 2011, Attorney General Eric Holder sent a letter to House Speaker John Boehner (R-Ohio) announcing Obama's decision that Section 3 of DOMA — the federal definition of marriage — was unconstitutional. As such, Holder wrote to Boehner, the Department of Justice would no longer be defending challenges to Section 3 of DOMA in court.
Since then, the administration's legal front against DOMA has been strong, with DOJ filing extensive briefs in courts across the country explaining why DOMA should be struck down and, in December 2011, DOJ's then-chief of the Civil Division traveling to San Francisco to argue on behalf of Karen Golinski's lawsuit in which the federal court employee is seeking equal health insurance for her wife.
And, as marriage-related ballot initiatives heat up in several states across the country, the Obama campaign's North Carolina spokesman on Friday, March 16, stated "the president has long opposed divisive and discriminatory efforts to deny rights and benefits to same sex couples. That's what the North Carolina ballot initiative would do — it would single out and discriminate against committed gay and lesbian couples — and that's why the president does not support it."
But, questions always return to marriage equality itself.
As The Washington Post's Greg Sargent wrote of the North Carolina statement, "[E]ach time Obama takes another positive step towards full equality for gay and lesbian Americans, it has the effect of further persuading gay advocates that Obama does support marriage equality — and stokes their impatience to see him come out and say so already."
Freedom to Marry President Evan Wolfson, who has fought for marriage equality for nearly three decades, responded to the White House's Wonderland statements — and reinforced Sargent's point — by saying, "One way to put an end to questions and parsing, and to get the full credit [that the administration's] so many pro-gay and pro-marriage steps deserve, is to be forthrightly for the freedom to marry, not just against 'against measures' such as DOMA or the anti-gay ballot measures."
Whether it be the ongoing challenge to Proposition 8 in California, the April 4 oral arguments in the appeal of the DOMA challenge brought by Gay & Lesbian Advocates & Defenders or the coming question of whether the Democratic Party platform will contain a marriage-equality plank, the questions are not going to get easier.
In that 2010 interview with progressive bloggers, Obama said, "The one thing I will say today is I think it's pretty clear where the trendlines are going."
AmericaBlog's Sudbay replied, "The arc of history."
Obama echoed, "The arc of history."