I remember in the 1960s watching the buildings burn on TV. I remember visiting a relative on Swann Street in the early 1980s, praying that my car would still be there after dinner. And I remember when the first signs of a renaissance appeared on a street that no longer looks like the old 14th Street. And if you haven't been there in six months you'll be surprised at the new construction sites.
Something major is underway, and many Capital Area Gay and Lesbian Chamber of Commerce (CAGLCC) member companies are a big part of the change. Here's an overview of a few.
They weren't the first to see the area's potential, but their arrival said much about the degree of change underway. "We thought it was the best area of D.C.," Mitchell Gold says. "We loved the building, which had lots of chic charm. It also has a large LGBT community, which is a core consumer for us. LGBT people are loyal to us because of the support we've given to the community since day one, over 22 years ago." The recession hurt sales, Gold says, but made consumers more value conscious, which actually helped his stores. He's also very excited about the energy the neighborhood has received from the many new restaurants and retail. "I can't think of one restaurant I've been to that I haven't liked. And Tim (his husband) and I have been to all of them."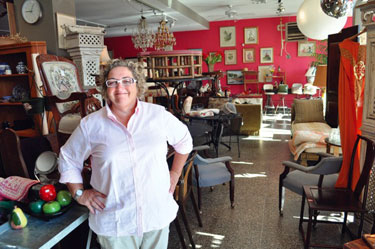 Pixie "Miss Pixie" Windsor
You can't miss that big, pink awning. After opening in the Adams Morgan area in 1997, Pixie moved her eclectic store to 14th Street in 2008, with an eye-catching 40 feet of storefront window. Sales often come from within the neighborhood, but, she notes, "We have lots of drive-by traffic and better parking than most areas in town." Business is good and a reflection of the neighborhood's changes. "The increase in other businesses, retail and restaurants, and the increased living space has driven sales up."
If you don't know their furniture and furnishings (95 percent of which are made in the U.S.), you may have been in this store for one of the events they've allowed nonprofits to stage on their roof. It's part of a fourth-floor addition to what was once a Ford Model T factory. This attractive and bustling store shows how a successful new business in an up-and-coming neighborhood can affect the economy, as it now supports a staff of 25. Scott Jussila, who came from the firm's Chicago location to manage this store, says Room and Board has 11 stores in eight markets. They spent 18 months and many dollars renovating the space because of the area's potential. And he says word about 14th Street is getting out. "Nearly all of our customers come from within a five-mile radius," he says, "but we're seeing an increase in customers coming from the suburbs."
What's Coming
EatWell DC, owner of numerous area restaurants, including Logan Tavern, will soon open a new venue, The Pig. This location will offer handmade food and drink, making full use of the animals that are all ethically raised. EatWell's spokesman Andy Phan says the company believes 14th Street is "on its way to becoming the main retail corridor for the city; living, shopping and dining. We, the owners and I, live here, love it, and we continue our romance."
Other CAGLCC member businesses to visit on 14th Street include R&B, Tsunami, Salon Blu, Crew Club, Bioscrip, Bang and Olufsen, Fathom Creative, Universal Gear and Mixology. '
The Chamber means Business. For more information visit 'caglcc.org.
Robert E. McLean, a CAGLCC member, owns REM Association Services, a full-service association management company in Arlington.