You know the difference between Sarah Palin and Frankenstein's monster?
Neck bolts.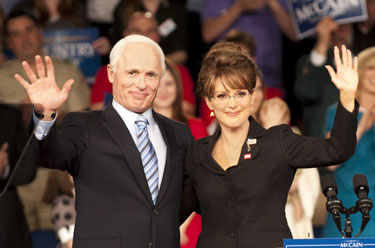 "Game Change" with Julianne Moore as Sarah Palin
Before you think that's a bald-faced insult to Palin – and whether that insult makes you giggle with glee or quiver with rage – think back a bit to the classic movie monster at the center of the metaphor. Frankenstein's creation was a hubristic attempt at victory and glory, a failed endeavor that ended with a sympathetic and synthetic monster deserving of pity and understanding.
Of course, in the end, the monster destroys its creator and leaves a trail of devastation behind, because that's just the nature of the monster.
Game Change, the controversial film on Palin's rise to become the vice-presidential candidate on John McCain's 2008 ticket, is a post-modern Frankenstein tale. Desperate for a jolt of electricity to enliven McCain's campaign, his political advisors, headed by Steve Schmidt (Woody Harrelson), hit on the idea of Alaska Gov. Palin (Julianne Moore), a telegenic and more-conservative-than-thou candidate sure to be a hit with the Republican base.
But in their pursuit of a fast fix, the campaign ignores early warning signs and neglects to investigate or question Palin thoroughly, leaving them to watch in horror as their blank slate of a candidate reveals just how blank – but ultimately vicious – she is.
The main surprise for most Democrats and liberals watching will be how sympathetic Palin comes across. Moore starts off feeling a little bit of a caricature, but quickly and deftly draws you in to a character more complex and human than the actual real-world caricature we're used to seeing on Fox News. It's undeniably powerful to watch Palin talk lovingly with Down syndrome children and their families as she works the line at political rallies. Her repeated moments of prayer with her daughters may seem odd and stilted to some, but instantly recognizable and honest to those who've spent time with evangelical and Pentecostal Christians.
But most of the sympathy for Palin comes as Schmidt and Sarah Paulson (Nicolle Wallace) try to cram the candidate with the knowledge she needs – from why there are two Koreas to why the queen is not the leader of Great Britain – in an impossibly short time. It's an infantilizing experience, which unsurprisingly leads to some childish acting out from Palin. But what Palin lacks in knowledge and experience, she makes up for mightily with her instinct for the political jugular, a personal revelation for her that drives the McCain campaign over a line the Arizona senator never wanted to cross.
As the two characters at the center of the story, Moore and Harrelson turn in stellar performances. Ed Harris is, on the surface, a doppelganger for McCain, but his performance is inconsistent – he's best in the smaller scenes with Harrelson, but just isn't as believable recreating public events we all know well, such as contradicting the red-shirted woman declaring about Obama at a rally, "He's an Arab! He's not an American!" It's a case of the cultural memory being too close at hand for an actor to overcome.
And that gets to the main problem of the film. As compelling as Moore and Harrelson may be, they are interacting with a history so recent it can still feel like the present. Superimposing Moore's Palin onto a debate stage with footage of the real Joe Biden is just one of a number of moments of cognitive dissonance that derail Game Change's momentum.
But leaving aside the gimmicks, Moore nails Palin's speeches and deliveries, and makes clear in those moments – "The difference between a hockey mom and a pitbull? Lipstick," and her willingness to use a speech like a shiv – what made Schmidt and McCain believe she was a talent who could be trained, a star that could save a campaign.
Instead, we have the story of a man who tried to create magic, but created a monster.