"Pumped up pecs and sticky skin, floors unswept and walls are thin," the four members of Imperial Teen sing in unison on a jaunty new song. "Were you the last to know? Were you the last to go?"
Know what? Go where?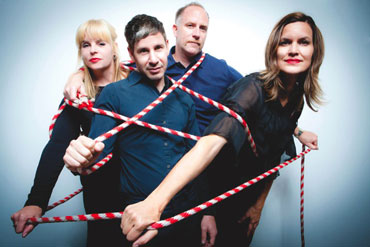 Imperial Teen
(Photo by Marina Chavez)
And pumped up pecs? Sounds hot and fun — but it just doesn't make sense.
Which is the point. The half-gay indie-rock group Imperial Teen took its name from the title of one of its early songs, which referenced "party favors, pesticides and pills," rashes, chicken hawks, the messiah, even Liberace – for no apparent reason other than to be clever, in a rhyming, stream-of-consciousness way. It's funny to any thinking person who bothers to look at the lyrics, but the joke seems to be especially on anyone who spends too much time trying to decipher significant meaning – or at least any kind of tale – out of the lyrics. Guilty as charged.
"Put a mirror in the cage, it's just another game we play," the band sings on "Over His Head," a track from the band's rewarding new album Feel The Sound. "It doesn't know what's happening, it never knows what's happening."
What is happening, you may be wondering. Just who is Imperial Teen? Why, it's the best band you've probably never heard of, that's who.
The gay Roddy Bottum – yes, that is his real name – formed Imperial Teen as a side project to his gig as the keyboardist for '90s alternative-metal hitmakers Faith No More. (Remember "Epic," and the controversy over its video featuring a dying fish out of water?) Fellow San Franciscans Lynne Perko Truell, Jone Stebbins and Will Schwartz joined Bottum to create Imperial Teen in 1996. (Meaning, there are literally teens alive today born after Imperial Teen formed.)
After opening for Courtney Love's band Hole and The Breeders at the turn of the millennium, the band has been relatively quiet the past decade. But Feel The Sound, its first set in five years, is a stand-out album, pleasing to both old-time fans as well as to those new to the fold. And it's not just because of the clever yet obtuse lyrical wordplay. That only goes so far — and actually, because they often sing in lovely four-part harmony under distorted musical instrumentation, the lyrics can be hard to make out by ear anyway.
What really sells Imperial Teen is its music: a hazy shade of pop-rock, utterly drenched in melody, with touches of psychedelia. You hear influences of The Beatles, of course, but also Electric Light Orchestra, as well as sophisticated pop contemporaries like The New Pornographers, even Foster The People.
Imperial Teen
Feel The Sound
Merge Records
$13.99




"No Matter What You Say," for example, starts out with a hazy, ELO-esque keyboard riff, followed by heavenly "ahh-ahhs" from the band. The sweet song turns a little edgy as it gets to the chorus, after lyrics about cells and bells, wills and drills. "No matter what you say," they practically snarl four times, before taking the high road. "With a foot on the ground, I can turn it around; warming up to the sound, and I'm not coming down."
Stay high, Imperial Teen. We're warm to your sound now.
Download These: "No Matter What You Say," "Last To Know"