Last August, Stephen Sondheim took to the New York Times to attack Diane Paulus, Suzan-Lori Parks and Audra McDonald for being arrogant and disrespectful in talking about Porgy and Bess.
But in the immortal words of the show: "The things that you're liable, to read in the Bible, it ain't necessarily so."
Once you see what director Paulus, adapter Parks and actress McDonald have done with The Gershwins' Porgy and Bess, you can't help but wonder: Has Sondheim now finally seen the production he so vigorously criticized – sight unseen – many months before its Broadway revival?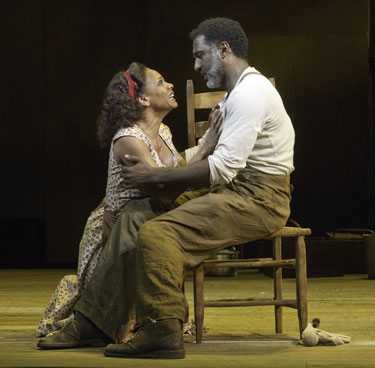 Porgy and Bess
And does the reigning Bard of Broadway regret the tempest he stirred so prematurely?
The truth is there's little on stage that registers as either arrogant or disrespectful to the show's creators, George and Ira Gershwin. Co-writers DuBose and Dorothy Heyward, on the other hand, are disrespected, by virtue of the revival's title, which includes the Gershwin branding, per the Gerswhin estate. Sondheim was right to criticize this move. No one will mistake Porgy and Bess as an Andrew Lloyd Webber musical. And if they want to distinguish this new truncated version from the original opera, renaming it Porgy and Bess: The Musical would work better.
In this form, the show is shorter, more streamlined and more racially sensitive than ever before in its 77-year history – which is saying a lot. Think about it: A story about residents of a poor, black Southern community, steeped in African-American music and culture, but written by two wealthy, white Northern men, with assist from a wealthy, white Southern couple? It's hard to imagine such a show surviving initial public outrage today, or its creators surviving with reputations intact.
Certainly Sondheim hasn't attempted anything of the sort.
But Porgy and Bess has proven to have staying power because of its audacious spirit – and more significantly because of George Gerswhin's unparalleled achievement in creating fetching music mixing blues, jazz, gospel, Tin Pan Alley pop and opera into one timeless, cohesive package.
Porgy and Bess remains a problematic story. While the denizens of Catfish Row do now transcend simple black stereotypes – and the "n word" was long ago stripped from the script – the namesake pairing still strains credibility. The glamorous, high-living, big-city Bess (Audra McDonald) genuinely seems to fall for the poor, small-town cripple Porgy – and really, how could anyone not fall for the dashing actor Norm Lewis? But it seems a contextual kind of love. You seriously doubt Bess will take him back if and when Porgy finds her in New York City after he sets sail at story's end. In fact, Bess would probably rather forget her time in seaside South Carolina, where her volatile husband Crown (a frighteningly great Phillip Boykin) turns into a killing, raping monster, and where the tight-knit community never fully understands her or her struggles, from cocaine addiction to spousal abuse. The woman needs serious counseling and support, not just a kind-hearted simpleton offering her unconditional love.
McDonald, as one would expect from a serial Tony Award winner – she's four for six to date – is extraordinary as Bess, and reason enough to see Porgy and Bess. McDonald convincingly portrays Bess as both confident and conflicted, tough yet achingly vulnerable. One minute she's strutting out on stage wearing a hot red sleeveless frock, the next she's inconsolably frazzled – trying to pick up the pieces of her life, or trying to resist the "happy dust" proffered by Sporting Life. David Alan Grier plays up the menace in his portrayal of the show's resident "low life," stepping into the shoes once inhabited by Sammy Davis, Jr., among others. And who knew Mr. Man on Film from In Living Color could sing? The two-time Tony nominee may have established his acting bona fides, but he's best here when he sings: First, with a punchy take on "It Ain't Necessarily So," and later, the rousing "There's a Boat That's Leaving Soon," which he blows right out of the water. (He gets two snaps and a twist, all right.)
This new version of Porgy and Bess trims an hour and a half off of the four-hour opera version, mostly by just sticking to key songs and dialogue. Opera critics and fans, in the main, have not been pleased with the changes. But the revival works for musical connoisseurs, perhaps even whetting newbie's whistle for more opera, or at least operetta. It's still more operatic than most musicals you'll ever see, for one thing. Even with only a 22-piece pit orchestra (as opposed to a 100-member orchestra at the opera), you still leave the Richard Rodgers Theatre marveling at the score and its iconic songs, including "Summertime," "I Got Plenty of Nothing" and "I Loves You, Porgy."
THE GERSHWINS' PORGY AND BESS




To 9/30
Richard Rodgers Theatre
226 West 46th St.
New York, NY
$55 – $150
877-250-2929
www.ticketmaster.com
porgyandbessonbroadway.com
You might wish for a bit more scenery to chew on in Riccardo Hernandez's set, a bit more flair in ESosa's costumes, even a little more color and pizzazz in Christopher Akerlind's lights – that is, in scenes other than when a hurricane hits, at which point Akerlind, working with Acme Sound Partners, stirs up significant, realistic dramatic tension.
Of course, the overall stark setting is on target, since it accentuates the bleak story, which is essentially a Greek tragedy. In other words, Paulus and company have managed to get a difficult, even problematic, story told on Broadway, where it will be seen by many times over the number of people who would ever see it in an opera house.
Sounds to me like a nice way to honor the show's creators and their legacy. You might even call it reverential. Respectful.