Film doesn't get much grimmer than We Need To Talk About Kevin. It's an utterly bleak, astonishing piece of work that demands your attention just as you hope to look away. It's horrific in the most troubling sense of the world, mining our most primal instincts to ask about the most absolute of our fears: What do you do with a child you don't want? A family? A life?
Tumbling through those questions is Eva Khatchadourian (Tilda Swinton), a one-time travel writer turned ambivalent mother who's left to bear what's wrought by her teenage son, Kevin (Ezra Miller). From the moments after his birth, he's distant and cold toward her; years later, those feelings manifest into a unnerving posture, an unspoken rage that threatens to devour Eva, her husband (John C. Reilly), their daughter (Ashley Gerasimovich), as well as the suburban world in which they've wrapped themselves.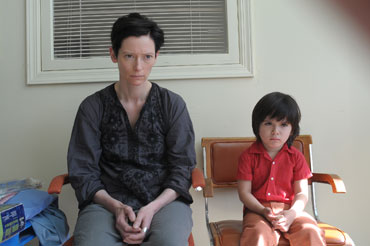 We Need to Talk About Kevin
Split into disjointed fragments, We Need To Talk About Kevin reflects the state of Eva's mind as she struggles to reconcile Kevin's life with her own. She's jagged, raw, and nearly shattered. We begin to see why as director Lynee Ramsay cuts from year to year without regard for chronology – Eva is perpetually teetering on the edge of a nervous breakdown, living a collection of past and present in chorus with one another. The only pattern here, if any at all, is cruelty throughout.
If Kevin seems an unbelievable sociopath as a toddler, it's because that memory is colored by what he does years later. Same goes for her husband's naivety, or her daughter's waifish innocence. We're not watching flashbacks, we're watching her memories, where characters are overblown and personalities are disproportionate to their persons. This is a very, very hard thing for a movie to do well. Ramsay puts us as close to Eva as we can reasonably be, framing difficult questions about nihilism and purpose within an emotionally troubling, incredibly sensitive subject.
Ramsay's direction, of course, is complemented by acting that's just as impressive. By now, lauding Swinton seems old hat, but it's worth repeating what many, many others will proclaim: This performance, under the pressure of such a demanding role, is fascinating. Swinton grips audiences by her force alone. But rather than chew up scenery, her nuances add a profound melancholy to what would otherwise be an exhausting ordeal.
Alongside Swinton, watching Kevin develop – or rather, watching the three actors who portray him in ages from toddler (Rocky Duer) to child (Jasper Newell) to teenager (Ezra Miller) – is a brilliant and difficult task. Where he ends up is no mystery, making each stonewalled glare all the more overwhelming. He's hell-bent on deceiving his mother, wounding her in a way that's so cruel, so malevolent, that he seems more demon than human.
WE NEED TO TALK ABOUT KEVIN




Starring Tilda Swinton, John C. Reilly
Rated R
112 Minutes
Opens March 2
Area Theaters
For that reason, as well as others, it may be hard for some to praise this movie. Doing so is uncomfortable because it implicitly acknowledges a troubling story and message as something valuable, something worth watching. Make no mistake, We Need To Talk About Kevin is both of those – but it will also drain you.
That, after all, is the means to its end. We Need To Talk About Kevin asks difficult questions about the human condition, ultimately leaving redemption as an open-ended ideal. When Kevin admits that he no longer knows why he did what he did, there's recovery in his voice. He's unguarded, perhaps for the first time in his life. Will he be saved? Will Eva be his savior? These are tough questions, surely with tough answers. That we still ask them, though, is Ramsay's greatest triumph.