"I truly believe, unlike any other issue, whatever it takes to win we will do, and we will not cut a single corner," Chad Griffin said.
In May 2011, two years after having launched a federal constitutional challenge against California's Proposition 8, Griffin spoke with Metro Weekly about the resources expended by the American Foundation for Equal Rights (AFER) in the case, Perry v. Schwarzenegger (now Perry v. Brown), speaking with confidence about the route taken by his small, relatively new organization. As he had said more than six months earlier, "It's very hard to compare us to other organizations because we literally created a foundation to execute, manage and oversee this case."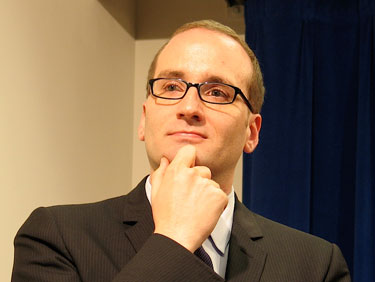 Chad Griffin
(Photo by Rex Wockner)
Griffin, an Arkansas boy who came of age in Bill Clinton's 1992 presidential campaign and on the Clinton White House's communications team, was named on Friday, March 2, as the next president of the Human Rights Campaign, the nation's largest LGBT organization. Griffin will be taking over the role held by outgoing HRC president Joe Solmonese since 2005. The 38-year-old Griffin, a Georgetown University graduate, will now be leaving AFER — which reported raising a little more than $5 million in the fiscal year that began April 1, 2010, and has only a few employees — to take the helm of an organization with roughly 150 employees and about a $40 million budget.
In October 2010, Griffin talked with Metro Weekly in an extensive interview as part of an article, "State of Play," addressing the leadership and activities of national LGBT organizations. Although few of his comments about organizations more broadly found their way into print at that time, they took on new relevance March 2.
Perhaps most interesting was Griffin's assessment of the early days of the Proposition 8 lawsuit, in which AFER made a decision to press a case that LGBT legal organizations had been intentionally avoiding for years.
On May 27, 2009 — the day that the lawsuit was announced — nine national LGBT political, legal and educational organizations warned that "ill-timed lawsuits could set the fight for marriage back." The statement included the sign-on of legal groups such as Lambda Legal, ACLU, National Center for Lesbian Rights (NCLR), Gay & Lesbian Advocates & Defenders and Evan Wolfson's Freedom to Marry — and the Human Rights Campaign.
In October 2010, Griffin said of the federal constitutional litigation route, "After the passage of Proposition 8, this was a battlefront that had been debated for some time, but was a course that had not been taken.
"The American Foundation for Equal Rights — and, though it didn't actually exist at the time, it was created after this idea came about — a group of us decided that this was a path that should be taken and that the time was right to take it. And we chose to put the time, energy and effort around what you've seen … with the Perry v. Schwarzenegger case."
Talking about the legal, political and public relations efforts that he said must be made at the local, state and national level, he called AFER's public relations effort "perhaps the grandest public-awareness campaign that this movement has ever seen," saying it was "a tremendous opportunity to communicate the human side of this story to the rest of the country."
The disagreement with the other organizations about the strategy came to public light in July 2009 when Griffin sent a strongly worded letter to representatives from Lambda Legal, ACLU and NCLR, who had sought to intervene in the Perry case through representation of LGBT community organizations in California. Griffin wrote that AFER would "vigorously oppose any motion to intervene" because their actions in the months leading up to the filing of the case and in the immediate aftermath of the filing led Griffin to believe "it is inconceivable that you would zealously and effectively litigate this case if you were successful in intervening."
Asked in October 2011 — with the trial-court win in Perry under his belt — about that letter and whether he stood by the comments, Griffin said, "I've never been one that has had a fear of disagreeing with friends — particularly friends that have the same end goal."
Expanding, he said, "It is no secret that there was a brief but loud disagreement in terms of strategy. I and the group that we had assembled and others across the country felt that this was the right move and that it was the time to make the move. … There were others with certainly some legitimate thoughts as to why a case should not be filed, or why we should wait five or 10 or 12 or 15 years. But, it bothered others more than it bothered me. … Healthy debate is a good thing, and then at the end of the day each person and each organization has to move forward with conviction with the decision that they make. And that's what we did.
"We are confident in the decision we made," he said, adding, "From the moment the trial started, we were all working together and on the same page and those are all people that I have a tremendous amount of respect for, the contributions that they've made over time and continue to make today."
In May 2011, Griffin noted of the success that AFER has had, "I couldn't be more pleased with the money we've raised and that we've invested in this case. We'll see what the outcome ultimately is, but anyone who was able to see that trial saw how we put on this case."
The outcome still is not certain, with a devastating loss at the U.S. Supreme Court — the specter that kept other organizations from filing such a suit — still a possibility on the horizon. With the wins at the trial court and from the U.S. Court of Appeals for the Ninth Circuit, however, the case has unquestionably — particularly with the legal leadership team of conservative lawyer Ted Olson and liberal lawyer David Boies — given momentum and public awareness to the issue in a positive way that rivals, if not surpasses, efforts in the past that Griffin's project has built upon.
But, when taking the leadership role at HRC, Griffin will lose the benefit of being able to focus exclusively on one issue — and will quickly face questions about how he will lead HRC and how expansive will his efforts be. He will face questions about how the organization will show its dedication to advancing transgender equality. He will face questions about whether his messaging, so successful on the marriage front, will find similar attention and success on the employment and health and other fronts. And, if HRC history is any guide, he quickly will face criticism for his answers to those questions.
Hours after being announced as the organization's next president, Griffin briefly addressed the question of how he will expand his AFER efforts beyond marriage equality at HRC, telling Metro Weekly, "I don't think anyone who knows me would say anything other than that I'm committed to full equality."
Noting that "it's not any one thing that impacts the life of a gay person," Griffin said, "We have to fight the battle on all fronts, whether it's school bullying, an inclusive ENDA (Employment Non-Discrimination Act) or a whole host of other things, political or otherwise."
Griffin brings to the job the rare combination of being seen as an activist, due to his aggressive Proposition 8 challenge, but possessing insider credentials from Hollywood to D.C. He also — despite his background in Democratic politics — has consistently presented AFER as a nonpartisan effort to advance marriage equality. In addition to Olson's legal leadership, it was an AFER fundraiser in Manhattan in 2010 that served as former Republican National Committee chairman and then-newly out Ken Mehlman's first time serving on the host committee of a pro-LGBT equality event.
Of that intentional effort, Griffin said in October 2010, "This issue is not a political issue, it should not be seen as a partisan issue. It's a human rights issue, and that's the way it should be seen. It's a fundamental American value that impacts every single one of us and our families, whether we're Democratic, Republican, independent or otherwise. And that's where our focus will be."
Having repeatedly distanced himself from the political fight throughout that interview, Griffin noted, "I do think there's a very, very, very important place for political organizations on both sides of the aisle that support candidates that are for equality and that work very hard to defeat any candidate who is not for equality. In the side of my life that is my profession, it's no secret that I am a Democrat. But, I really do believe — and this is probably the first issue that I have really ever, and you can talk about a lot of things being bipartisan — this is one that absolutely should be."
Asked about his experience of working with other organizations and how successful LGBT organizations are about working together toward a common purpose, Griffin presented himself in October 2010 as somewhat removed from those questions.
"I will be completely honest with you and say that I'm not one that has — and I don't know if this is a good thing or a bad thing — but I'm not one that has necessarily followed the ins and outs of LGBT politics," he said. "I've worked very hard in my other hats to fund candidates and get my clients to fund candidates that are supportive of our issues, but I'm not, perhaps, the best one to have a historical view on that front — other than to say, in any significant movement, where the stakes are as high as they are, will certainly have strategic disagreements."
Explaining further, he said, "That's what brings about good strategy and great decisions that lead to victory. But the moment that a movement is wasting time, energy and resources arguing with, debating, competing with one another, that's when there's a significant problem. And … we don't have time. We need to win this and win this once and for all for the LGBT teenagers. … That's what should drive us every day."
Echoing a spirit that animated several of his recent comments, Griffin added, "For every single day we don't have equality, and for every single day that we all go home and we go to bed at night and we don't have full equality under the law, as we're sleeping there's another kid contemplating suicide. So, to me, if every single one of us is thinking about that kid, that teenager, every organization in the movement — whether it's legal, political, grassroots or otherwise — if that can be our motivating force, I think it will enable us, the movement as a whole, to put aside any differences.
"But, quite frankly, in my 14 months in the center of this — and I do this as a volunteer, so I don't have to deal with the politics some others do — I have mostly seen groups that have been working together and trying to figure out ways to help one another."
On June 12, less than one month after the third anniversary of the filing of the lawsuit that marked Griffin's entrance on the national LGBT scene, Chad Hunter Griffin will show up at the Human Rights Campaign's D.C. offices to take his seat in the HRC president's office, where he will deal daily with "the politics" of an organization that faces political questions on all issues from all sides.
HRC's search committee and board of directors have decided that Griffin is up to the task. Griffin, for his part, said almost a year and a half back in reference to his efforts at AFER toward advancing marriage equality, "In order to win a battle — particularly one as important as this one — one has to be fighting on the offensive on every single battlefront."
As to how he should be judged in his efforts at HRC, Griffin laid out that test in October 2010.
"I think we — and every organization — should be judged on our success," he said. "If I'm contributing to an organization, I want to know that my money is going to a successful effort. And whether that's grassroots, state, local, national, it would be the same."