Some fans might have paused on hearing the first single, "Give Me All Your Lovin'." Others might have skidded on "Gang Bang," the second track on MDNA. And, in fact, there are more jarring tracks to come on Madonna's new set, which ranks as one of the most experimental albums in her oeuvre. From the get-go Madonna has garnered attention through shock, but in many ways she seems more single-minded in that pursuit here than ever before. It's as if she's tired of Lady Gaga and her reductive contemporaries stealing her shock-pop diva's thunder. "Some girls going off the deep end," she sings on one track. "Some girls have a filthy mouth, all talk and they never stop." That's not Madonna. "I'm everything you ever dreamed of," she blithely asserts.
MDNA is not everything a fan ever dreamed of. It lacks the stunning sophistication of Ray of Light, or the cohesive brilliance of Confessions on a Dance Floor. The problem with MDNA is that it's remarkably immature and spastic – making the female pop standard-bearer sound utterly desperate in trying to one up, much less keep up with, her pop progeny.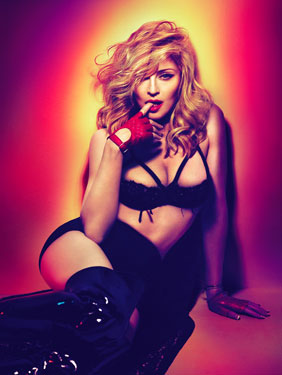 Madonna
(Photo by Mert + Marcus)
Which is not to say she doesn't succeed. As unruly, even abrasive, as much of it is, MDNA is certainly better than Gaga's Born This Way. Though I quibble with the 53-year-old Madonna's overuse of the term "girl" referring to herself, not to mention the many girlish antics she gets into here, it's certainly true she sounds as vigorous as she looks.
Among her new songs, I'm most fascinated by the gurgling synths constantly bubbling to the top of "I'm Addicted." The Benassi cousins did great work on this Euro-trance number, which lyrically compares love to the club drug ecstasy. In fact, the chorus even chants "M-D-M-A" as the song ends. Obviously, Madonna is still finding new ways to shock.
Too often, however, she resorts to her old tricks of shocking through religion. MDNA actually features some of Madonna's most sacrilegious lyrics. "I'm a sinner. I like it that way," she chirps on a carefree pop hit co-written with her old pals William Orbit and Jean-Baptiste. Later in the song, she says a prayer: "Hail Mary, full of grace, get down on your knees and pray; Jesus Christ hanging on the cross, died for our sins, it's such a loss."
Madonna is more disingenuous than sacrilegious on new single and album opener "Girl Gone Wild," which launches with her begging God's forgiveness for sinning. "I want so badly to be good," she says – until she changes her mind. "Good girls don't misbehave," she sings in the bridge. "But I'm a bad girl anyway."