On March 21, Starbucks chief executive officer Howard Schultz responded to a recent campaign launched by the National Organization for Marriage urging people to "Dump Starbucks" by telling attendees at a corporate shareholders meeting, "I think Starbucks has many constituents, and from time to time we are going to make a decision that we think is consistent with the heritage and the tradition of the company that is perhaps maybe inconsistent with one group's view of the world."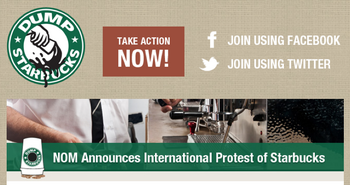 In January, Starbucks — the global coffee chain headquarted in Seattle, Washington — announced its support for same-sex marriages amid the state's marriage equality debates. "It is core to who we are and what we value as a company," Kalen Holmes, executive vice president for Partner Resources, wrote in a statement published by the Seattle Times.
In response, NOM launched "Dump Starbucks" — a campaign claiming that Starbucks is going against the grind by launching a culture war on those who believe in the preservation of heterosexual marriages.
"Unlike our opponents, we do not target whole companies for the actions of an individual business executive in that company," Brian Brown, NOM's president, said in a statement. "But Starbucks has taken a corporate position in support of redefining marriage for all of society. We will not tolerate an international company attempting to force its misguided values on citizens. The majority of Americans and virtually every consumer in some countries in which Starbucks operates believe that marriage is between one man and one woman. They will not be pleased to learn that their money is being used to advance gay marriage in society."
Although "Dump Starbucks" states that half of Starbucks' US customers are offended by its pro-equality position, a 2011 Gallup poll found that 53 percent of Americans believe same-sex marriages should be legal. At the time of publication, the petition had only 3,770 signers.
Starbucks, which was ranked 98 in CNN Money's 100 best companies to work for in 2011, reported consolidated net revenues of a record $3.4 billion during the first quarter of the fiscal year 2012 — an increase of 16 percent since the first quarter, 2011.
The Fortune 500 company is not alone in its support for marriage equality. On March 21, the Human Rights Campaign, the nation's largest LGBT civil rights organization, launched its own petition encouraging consumers to continue to support Starbucks despite NOM's backlash.
"NOM is falling back on their typical tactics. Starbucks has been a vocal supporter of marriage equality for loving same-sex couples – views that are in-line with the majority of Americans — and that enrages NOM," said HRC President Joe Solmonese in a statement. "As a result, NOM is throwing a temper-tantrum and encouraging its few supporters to intentionally harm the economic well-being of Starbucks employees all over the world." The HRC petition does not reveal how many people have signed it.
At the shareholders meeting, Starbucks CEO Schultz said Starbucks is "the kind of company that embraces diversity."
WATCH:
Click here to see an HRC compiled list of other companies which support marriage equality.