"By nature, cabaret is an evening of song, of stories, of fun in an intimate space, where there's a direct connection with the audience," says Jim Ball of L'Enfant Café.
Twice a month, the Adams Morgan restaurant offers all that, courtesy of singing drag queens. "The Speak Easy: Sunday Supper Club & Cabaret" stars and is co-produced by probably the best-known singing drag artist, New York-based Joey Arias.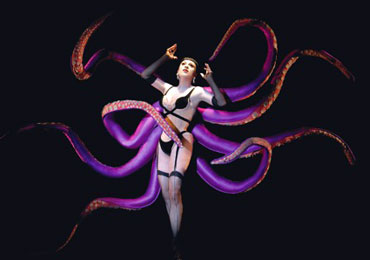 Joey Arias
"When we thought about doing this, we said, 'Let's get somebody like Joey Arias,"' says Christopher Lynch, who co-owns L'Enfant Café with Ball. "But only Joey Arias is like Joey Arias." Lynch and Ball were fans of Arias from when he used to perform regularly with other singing drag artists at a lounge in Manhattan's West Village.
As it happens, Arias was only too eager to revive his cabaret days, telling Lynch he missed doing shows in small, intimate spaces. Arias has recently performed at Carnegie Hall, in addition to nationally touring his theatrical stage show with puppeteer Basil Twist, Arias With A Twist, which lands at Woolly Mammoth in April.
Lady Bunny has already sung and performed with Arias at L'Enfant's drag cabaret, as have popular New York drag singers Peppermint and Flotilla DeBarge. The next show, set for Sunday, March 11, will feature Paddy Boom, the original drummer for the Scissor Sisters, serving as the evening's DJ. Noted jazz bassist Ben Allison and guitarist Brandon Seabrook will accompany Arias for the evening's two shows, one at the end of a three-course dinner, the other over cocktails. Chances are, the night will end in a DJ dance party.
Patrons enter through L'Enfant's back door for Speak Easy, a nod to its namesake private, dimly lit joint of old. The event builds on the French-styled venue's annual Bastille Day block party and especially La Boum, its always-booked Saturday "house party" brunch. All attract a mixed gay/straight crowd, and are gay business partners Ball and Lynch's way of contributing to "making the gay scene in D.C. unique and cool." '
The next Speak Easy shows are Sunday, March 11, at L'Enfant Café, 2000 18th St. NW. The cost is $50 for the 7 p.m. three-course dinner show or $10 plus two-drink-minimum for 10:30 p.m. show. Reservations required. Call 202-319-1800 or visit lenfantcafe.com.