"When I first joined I was too shy to look up at the conductor," says Michele Kennedy of her early days in the San Francisco Girls Chorus.
Kennedy eventually overcame her shyness to become the chorus's soprano section leader and a featured soloist. These days, Kennedy is a celebrated soloist in the chamber music world. She'll perform with the Folger Consort this weekend for the program "The Songbird," focused on the baroque music of 16th and 17th century Italy, from Monteverdi to Frescobaldi. But the centerpiece is works by two female composers — Barbara Strozzi and especially Francesca Caccini, credited with writing the first opera published by a woman.'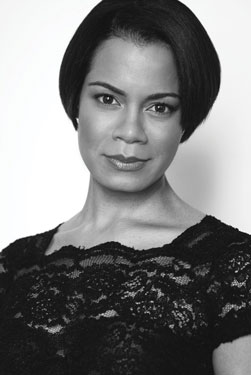 Michele Kennedy
(Photo by Cody Rasmussen)
"[Caccini] is a remarkably feministic figure who is also uncommonly modest," says Kennedy. In part, that's because Caccini didn't want to overshadow her father Guilio Caccini, a founder of the opera genre. "I think she wanted to be a respectful daughter. I like the combination of strength and fragility that her music brings to bear. It's something that I can relate to very much personally."
Kennedy started in music playing the piano, at the age of 3. "I found solace in the piano," she says. "It felt like a protective space for me, especially as a very introverted, shy child."
But because she was often "singing when I was supposed to be practicing piano," her parents encouraged her to join the chorus. And a singer – eventually – was born. A San Francisco Bay native, Kennedy would go on to earn a music degree from Yale University and settle in New York.
Kennedy is "excited and honored" to perform at Folger, praising its joint musical and scholarly pursuits. For example, "The Songbird" program, which also features harpsichordist Joseph Gascho and violinist Risa Browder, is part of the Folger Library's celebration of 1,000 years of women writers, including an exhibit on "Shakespeare's Sisters."
"The kind of venue and atmosphere that Folger offers is pretty unique," Kennedy says. "It's a wonderful synergy and celebration of literature and music."
Michele Kennedy performs with the Folger Consort Friday, March 16, through Sunday, March 18, at the Folger Theatre, 201 East Capitol St. SE. Tickets are $35. Call 202-544-7077 or visit folger.edu.