Is Joe Bello Godzilla?
"Maybe," laughs the executive director of D.C.'s Different Drummers. Officially, Bello will just be the conductor of the Capitol Pride Symphonic Band and Capitol Pride Wind Ensemble for a few selections during DCDD's spring concert this Saturday, March 31.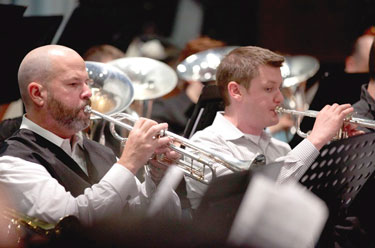 DC's Different Drummers
(Photo by Rob Mesite)
One of those selections is Godzilla Eats Las Vegas.
The performance, says Bello, "will be a little bit theatrical, and there's definitely a surprise in store." In fact, he'll probably wear "something flashy" while conducting Godzilla.
Godzilla isn't the only Hollywood score to get a nod from DCDD this weekend. In fact, the program is titled "My Favorite Things," and naturally includes a medley from a certain Alpine musical favorite.
Bello assembled the concert program based on favorite tunes submitted by DCDD members. Also on the bill: a song from The Lord of the Rings, as well as a piece incorporating the U.S. Navy hymn, "Eternal Father." Bello has tapped his predecessor, former DCDD artistic director K. Scott Barker, to guest conduct during the program.
And The Sound of Music medley that gives the concert its title? It'll be a sing-along at concert's end, says Bello, "with another little surprise in there too."
Those different drummers, they're just full of surprises.
DCDD's "My Favorite Things" is Saturday, March 31, at 7:30 p.m. 'CHEC Auditorium at the Columbia Heights Educational Center, 3101 16th St. NW. Tickets are $20. Visit dcdd.org.