There are three things you should know about Theater Alliance's How to Disappear Completely And Never Be Found: It's too long, too manic and, ultimately, too obvious to justify all of its spectacle and spasms.
The play, inspired by a how-to book of the same name published in 1985, was penned by UK playwright Fin Kennedy in 2005, won a pair of awards, and received droves of critical acclaim during its Sheffield premiere two years later. As that pedigree suggests, it may very well be excellent in the right hands. Director Colin Hovde's, however, don't seem to be the right fit.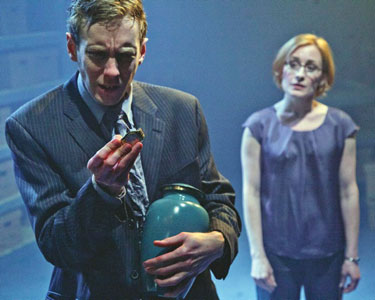 How to Disappear
(Photo by C. Stanley)
In essence a metaphysical drama, How to Disappear follows Charlie (Dylan Morrison Myers) as he breaks down against the slog of life as a London advertising man. He's got no intimate relationships, he's nursing a cocaine habit, and just beneath his listless gaze he's snarling at anyone and anything that crosses his path. When that veneer begins to peel – and with it, shreds of his sanity – Charlie decides to escape his problems. Literally.
That how-to book, you see, was a guide to building a new identity. It gave advice on staging disappearances, arranging identification, establishing credit, and even faking death. Kennedy's play doesn't go as far as explaining how the process works – these days, it's got to be a harder than snagging a birth certificate. Rather, it explores the moral and esoteric consequences of running away from mistakes. Yet, Hovde's production manages those questions of responsibility with little aplomb.
It's not an acting misstep, to be fair. While Myers goes over the top to capture Charlie swirling the drain, his performance isn't particularly bothersome or bombastic. We're talking about a drug addict, after all, who has no contextual awareness and a growing inability to engage socially. He's supposed to be over the top. He's supposed to be swirling the drain. That on occasion he goes a bit far, screams a bit loudly, is understandable.
Alongside Myers, the trio of Ian Armstrong, Greg Gallagher, and Nadia Mahdi does a bit of it all too, playing a combined 28 characters with a variety of gaits, accents, and personalities. (And with requisite costume changes, of course.) They're a saving grace, offering up an occasional bit of levity to dull the bite of the production's two-hour-plus running time. Without them, How to Disappear would be dreadfully grim and unrelenting.
The technical direction, too, is admirable, making use of the H Street Playhouse's space to creative, if minimalistic, effect. Lighting ebbs and flows with the shocks of Charlie's breakdown. An eerie fog pervades, distorting the audience's perception of the stage. The play takes place in front of metal storage racks – and here's the first sign of ill tidings — where file boxes with labels like "Unwanted Hugs" and "Charlie's Exes" collect dust. They're metaphorical devices, of course, but to what ends? Are they even legible to the seated audience?
HOW TO DISAPPEAR COMPLETELY AND NEVER BE FOUND


To April 1
H Street Playhouse
1365 H St. NE
$35
202-241-2539
www.theateralliance.com
While I admit that griping about file boxes is nit-picking, it's nonetheless indicative of How to Disappear's biggest failings: Hovde seems so intent on cataloging the misery of Charlie's day-to-day existence — and in such lurid, scene-gobbling detail – that the script's conclusion doesn't follow as a natural extension of the production. (Or, as one wonderfully supercilious older woman on opening night put it: "I just didn't feel the dénouement.") Charlie just continues on and on, rabid and frantic, as the audience is witness to everything that he deems terrible about his place in society and what it doesn't allow him. When he's told, post-intermission, that "the little things" matter in life, the message seems so obvious that it's out of place. That narrative dissonance, unfortunately, trumps what's otherwise accomplished by the cast and crew.
How to Disappear isn't a bad play, but it's certainly disappointing. It could have emphasized salient points about working culture, or better explored the relationship between responsibility and guilt. Instead, Hovde embraced the histrionics of a twisted martyr with a heavy hand. Disappearing may be drastic, but at the very least, you'll consider an early exit.