One day, maybe D.C. will have another homegrown contestant on RuPaul's Drag Race. But for now, every weekend Town features Miss Tatiana, season two's third runner up.
This month, however, the nightclub presents two current Racers from Southern California — two of season four's strongest contestants, in fact. Willam Belli performs this Saturday, March 10, followed by Chad Michaels on Saturday, March 24.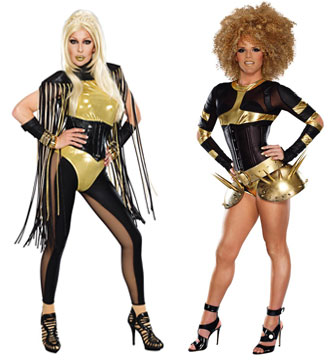 Chad Michaels and Willam Belli
(Photo by Mathu Andersen)
"[Drag Race is] like a working education," says Belli, who has been called a "fierce-body bitch" on the show. "You're a concentrated version of yourself on a reality show. So if I'm a snarky, sarcastic person, my concentrated version is going to be the funniest, bitchiest person in the world."
Originally from Philadelphia, the 29-year-old Belli moved to Los Angeles over a decade ago to become an actor. He's appeared since, mostly in drag, playing small roles on TV and film, everything from Nip/Tuck to Sex and the City to Another Gay Sequel: Gays Gone Wild.
Belli decided to try out for Drag Race after a casting director passed him over for a role because, he said, "I wasn't name enough. So I just decided it would be a good idea to up my household name recognition."
Clearly, he has. His "The Vagina Song" has passed 2 million hits on YouTube. Belli will perform that at Town, along with a couple of his own songs – singing live.
Meanwhile, Chad Michaels has also upped his game by appearing on Drag Race – even though it took a couple years. Before the show had even started airing, one of its producers came to recruit from among the cast of the Dream Girls Revue Michaels runs in Southern California. "We're going to do this really cool show," he recalls producer Chris McKim saying. "'This is the kind of thing you're going to be doing: You're going to go into a thrift shop and get a whole bunch of stuff and…make an outfit.' And we're all like, what?! We all pretty much turned it down."
Once Michaels wanted to be on the show, "They really made me work for it" — in fact, they turned him down the last two seasons. "The experience has been wonderful," says Michaels. "They've been very true to portraying me as I am. And pretty much everybody else as they are, too."
Michaels, 40, got his start in drag nearly 20 years ago, dressing up as Cher "kind of on a fluke." Now he's arguably one of the world's most popular Cher impersonators – even Cher knows who he is. He first met her almost 10 years ago at a private party in Hollywood. More recently, he got front-row tickets to see the legend perform a couple times during her run at Las Vegas's Coliseum. "She's real fun," Michaels says. "She'd screw with me from the stage. She knows who I am, so that's cool."
"I'm definitely going to be bringing Cher," Michaels says of his performance at Town. But he'll also perform "really fun, souped-up comedy numbers that have raunchy movie quotes mixed in to some really great, cool music."
"Right now it's a great time to be a drag queen," he says. "It really is."
Willam Belli performs Saturday, March 10, and Chad Michaels on Saturday, March 24, both as part of the Drag Show starting at 10:30 p.m. at Town Danceboutique, 2009 8th NW. Cover is $8 before 11 p.m. Call 202-234-TOWN or visit towndc.com.