Joey Arias is one strange fruit.
That's true not just because the gay male performance artist gained some fame a couple decades ago singing – in drag – a spot-on tribute show to Billie Holiday, called "Strange Fruit."
God bless the child, he got started early. If his military family ever expected him to join the Army, they were quickly dissuaded. "As a kid," says Arias, "when they saw me going off doing strange things, I think it was like, rolling their eyes, 'Forget it, don't even go there."'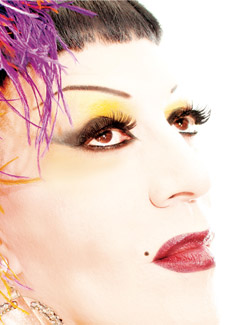 Joey Arias
Arias moved with his family from North Carolina to Los Angeles when he was only 5 years old. The entertainment industry beckoned early, before he was even legal. He sang in a short-lived, major-label teen rock band called Purlie, then he joined the now-famous-but-then-fledgling improv group the Groundlings, where he worked with many future Saturday Night Live stars as well as Paul Reubens, better known as Pee-wee Herman.
But it wasn't until Arias made the cross-country trek to New York in 1976 that he really started to develop his craft as an uncompromising, unclassifiable, incomparable singer and performer. He joined a nightclub act called Strange Party. He befriended and performed with eccentric German countertenor Klaus Nomi, including most famously as support act for David Bowie on Saturday Night Live in 1979.
And he became a fixture on the downtown nightclub and art scenes in the '80s and '90s, including the launch of a cabaret show at former West Village club Bar d'O. That show featured fellow gender-bending, genre-blurring singers in drag, including Raven-O, Sherry Vine and Flotilla Debarge.
"I got involved with the drag community," says Arias, "but I morphed it. I took it to a different world. That's not what I'm doing [now]."
Arias's is more sexually charged but androgynous art, you might say.
Last decade, Arias could be found in Las Vegas, as the emcee for Cirque du Soleil's adult-oriented cabaret Zumanity. He's also appeared in a number of films over the years, from Big Top Pee-wee to Elvira: Mistress of the Dark to Wigstock: The Movie.
"If I had a gun to my head, I guess I would say Too Wong Foo," Arias says, when prompted to pick one film highlight. Too Wong Foo, Thanks for Everything! Julie Newmar was special because of its late star. "Patrick Swayze was really amazing, an amazing actor who kind of fell in love with me," says Arias. "He saw my Billie Holiday show. It blew his mind. We got very close."
Arias is hoping to revive a Bar d'O-style cabaret in New York soon, but for now, he's helping L'Enfant Café establish a D.C. offshoot. For the past couple months he's organized and co-hosted the Adams Morgan venue's popular SpeakEasy Sunday cabaret.
Arias is forced to take next month off from L'Enfant, though, since next week sees the D.C. premiere at Woolly Mammoth of his hit New York show Arias With A Twist, created with puppeteer Basil Twist [interview].
I'm kind of nervous about how I'm going to protect my voice," he says of the show he created with puppeteer Basil Twist. (See profile.) "It's a very intense show. You will not see me anywhere the whole month except onstage. I will do the show, and [then] go back to the hotel and not talk."
Arias is generally a loquacious type – though he is vague about certain basic details of his life, from his age, to whether Joey Arias is his real name, to exactly what kind of education other than the Groundlings he's had. "I like to keep my life a bit of a mystery," he says, coyly.
The mystery of a man. It's a big part of what keeps us interested.
METRO WEEKLY: I understand Arias With A Twist started as a result of you playing with Basil Twist's heirloom dolls?
JOEY ARIAS: I've been a big fan of Basil's for a long time. I met him through a dear friend, Bobby Miller, when they were boyfriends. My friend [drag queen] Sherry Vine would have these great shows, and all the special effects, puppetry work – which you didn't know was puppetry work – was all done by Basil Twist. And so I was like, "What? How did those hands crawl up the wall?"
I'd been wanting to work with him, but it wasn't until I came back from Cirque du Soleil that Basil said, "I think we should do something together. What do you want to do? It could be anything."
MW: Twist encouraged you to just let your imagination run wild?
ARIAS: Oh, I always let my imagination run wild. Even when I'm talking to you. [Laughs.]
MW: The show, Arias with a Twist is you and just several inanimate objects onstage, essentially.
ARIAS: I'm the only thing with a pulse on the stage.
MW: And yet, Basil says you have chemistry with the puppets.
ARIAS: Of course! I mean, they're very magical. The history, of when people make things and touch things, they become talismans. It's not just a piece of wood. There's life in those beautiful little eyes. When you look at them, their clothes – I'm sure another higher form of life looks at us like we're puppets and looks at us like, 'Oh, look at her.'
MW: Is Joey Arias your real name?
ARIAS: Yeah, for you. [Laughs.]
MW: It's not the name you were born with?
ARIAS: I'm not going to tell you.
MW: Okay. When were you born?
ARIAS: I was born when the sun was going down and the moon was high. I'm a Libra.
MW: And what year?
ARIAS: I'm not telling you. I don't think it's necessary.