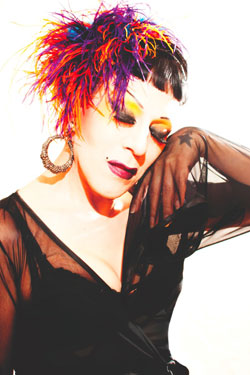 Joey Arias
Todd Franson
MW: Let's talk about your time working with Mugler in Cirque du Soleil's Zumanity in Las Vegas.
ARIAS: [Cirque's creative director] Andrew Watson called me and said, "I'm doing this new show, it's going to be an erotic cabaret, and I want Mr. Mugler to direct it." And I was like, "Well, if you're doing a cabaret show, who's your emcee?" And he goes, "That's you!" I just said, "That's impossible. What does that mean?" "It means one year in Montreal, and a two-year contract in Vegas." And I said, "No." But he sucked me into the machine and that's how it all happened.
MW: You were the Mistress of Seduction?
ARIAS: I was the emcee, uh-huh.
MW: And you sang in that show too?
ARIAS: I wound up writing half that script, and I wound up writing three songs in the show. I was cast as the emcee/singer. And eventually they hired two singers, and so they got involved as singers. And so I would sing sometimes, and then sometimes I had to sing all of the show because both of the girls were gone, sick or something. So I would sing the whole show. So yeah, I sang my ass off in that show.
MW: Before Zumanity, you created a very famous cabaret at Bar d'O, a small club in New York's West Village in the '90s. How did that come to be?
ARIAS: The Bar d'O owner said to me, "Oh, I've got this little bar and nothing's happening, and I want to do something with it or otherwise I'm going to get rid of it." We went there one afternoon – I brought [fellow singing drag artist] Raven-O with me, and I went, let's try it. Let's do a Tuesday [night show]. New York magazine came and they were like, "Wow, this is fantastic. It's live singing." Before you knew it, we had lines around the block. We had to add nights. Eventually we brought Sherry Vine in.
MW: Do you wish there were more drag queens singing and not just lip-synching?
ARIAS: There are actually. There's Justin Bond, there's Lady Bunny, there's Raven-O, there's Sherry Vine. There's a lot of people that are singing. But I don't know the ones that are lip-synching because I've never lip-synched. I don't know how to lip-synch.
MW: You've never even given it a second thought?
ARIAS: I just can't. I'm like the worst lip-syncher in the world. I can't even lip-synch to my own songs.
MW: Who were your role models, or idols, when you started out?
ARIAS: Billie Holiday. David Bowie. The devil. [Laughs.] I always loved Lucifer, the image. Because he was like the punk of the angels. I loved horror films as a kid. I always loved those kinds of things. Not the dark side, like mean and evil and black magic, but like something that lives in the dark. That's not of the sun. I'm not really good in sunshine. That's not my world. I'm more like the moonlight child.
MW: How has being gay or queer informed your body of work?
ARIAS: I think being who you are – that's why I call myself Z chromosome, because it's beyond gay. Yeah, I'm gay, but then you put me in Chelsea, I don't fit in with that gay crowd. But yes, I'm gay. Queer? Yes. So you can use all of those elements — yeah, it's part of my life. And I am who I am.
Sometimes, the gay world can be straighter than straight. Gays are not sometimes the most friendly of people, I think.
MW: You've also seen a lot of changes in gay culture over the decades.
ARIAS: Yeah, I've seen people come together, I've seen people fall apart, I've seen people come together. The disease AIDS, everybody comes together. And then once people get righteous and there's money, people separate again into their little clans. You know, it's the classic, what goes around comes around. I just kind of go with the flow. Everybody's everybody to me – straight, gay, whatever, black, white. When you get older you start seeing it differently.
MW: Is there anything that you haven't done yet that you'd like to do in your career?
ARIAS: I want to go to the White House and do my Billie Holiday show there for President Obama. I think this man is a genius. I tell people, he's futuristic. He's modern, a modern man that's a modern president. He made the world fall in love with America again. When Bush was president, wherever I traveled, people would throw rocks at me saying, "We hate you and your president." Now people come up, "Oh my God, I love Obama." Obama is a very special person.
MW: You don't necessarily have a 20-year plan, I'm assuming?
ARIAS: I'm not a 401K – my life has never looked anything like that. My life, like they say, life is cabaret. Life is real. My plan is to be always performing, make people happy. Be the best at what I'm doing. Work with the best people in the world. Keep learning, searching, growing, finding, doing, transforming. That's my goal. And that's a timeless goal, it's not a "10 years I better be there. And five years, I better have that. I better have a house in two more years. My boyfriend better marry me in three years." No, I don't think like that. Because it's all-relative, time really. Before you know it, you're 18. And the next thing you know, you're 45. It all goes quickly.
MW: So you don't think you'll retire?
ARIAS: I don't even know the word, what that means. I'm not an old tire on a car. Re-tire. No, I don't believe in that word. Retire is for people who are tired of it and just want to sit back and play with the sand and have their days come and go. No, there's no such thing to me. I retire at night, and I wake up in the morning.
I don't know how to do anything else but this. I'll keep going until you find me in my dressing room dead.
Read our interview with puppeteer Basil Twist, too.
Arias with a Twist opens Wednesday, April 4, and runs to May 6 at Woolly Mammoth, 641 D St. NW. Tickets are $30 to $55. Call 202-393-3939 or visit woollymammoth.net.