Following the March 12 beating and subsequent robbery of a gay man by two separate groups of people in the city's Park View neighborhood, Washington's LGBT community sprang into action.
The victim says he was dropped off by a cab at the corner of Georgia Avenue and Irving Street NW at 9:30 p.m. that evening. He began to walk down the street when he was attacked by a group shouting homophobic slurs, who beat and kicked him. After the attack, he called his partner on his cell phone to come help him, but was set upon by another group who robbed him of his iPod, iPad, keys, two credit cards and a debit card.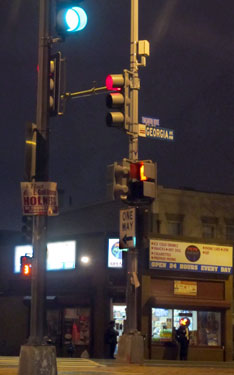 Georgia Avenue & Irving Street
The suspects fled before police arrived. After flagging down a police car, the victim was transported to the George Washington University Hospital for treatment. He suffered two separate jaw fractures in the attack, and had to be intubated – placed on a breathing tube – until the swelling in his jaw subsided, just so he would be able to have several surgeries to fix his broken jaw.
Metropolitan Police have categorized the crime as a robbery using force and violence, with a potential bias motivation.
Motivated by the savagery of the attacks on this man, as well as a string of other violent attacks on members of the LGBT community, including other assaults and a shooting at an IHOP restaurant, people held a march to protest the violence and call for police accountability in investigating and pursuing suspects in what are believed to be hate crimes.
With the announcement of an arrest of the suspect in the nearby IHOP shooting on March 26, news media turned their focus towards the victim of the Georgia Avenue attacks. He and his partner, who arrived on scene minutes after the two attacks occurred, agreed to sit down for an interview with Metro Weekly to share their side of the story, on the condition that their names not be used. They hope that telling their story will encourage possible witnesses or other people with information to come forward and notify police, in hopes of arresting those responsible for the attacks.
METRO WEEKLY: Let's go back to when this all happened. So, what was your state of mind when you were coming home? You got dropped off about two blocks from your house…
VICTIM: Not even a block.
MW: Why didn't you just get dropped off in front of the house?
V: Well, I was out with a friend earlier, and we played the "let's see if he can get a cab first," and so, he was on one side, I was on the other, and he got a cab for me. So, he knows I live here, but he doesn't know my exact address. He just told the cabbie, "Georgia and Irving."
And so we came up on Georgia, and I figured it was senseless to make a right on Irving for him to just turn around and come back. It was a nice night out. It was only 9, 9:30, so I figured, "I can walk the block home." I mean, I do this walk home all the time.
I made it to about the back alleyway, which is behind the 77 Market, which is on the corner, and that's when the first attack happened.
All I can say is that was motivated — as just an attack. There was no intent to steal anything. There was no…they didn't steal my phone, they didn't steal my iPad. They were just looking for a fight, it looked like.
I just remember having my bag wrapped around me, I remember being dragged, I remember being assaulted. They were just calling me "faggot white boy," and [I remember] just bracing myself for the kicks that ensued. I don't know if they decided they did their damage, and did what they did.
The next thing I remember is I just want to be able to call [my partner] and let him know what happened. And so, I was on the phone with [him] when the second attack occurred. I think they're different attacks, because the second attack, they did steal the iPhone, they stole the iPad…. I was fortunate they didn't steal my wallet, because that was in my pants pocket and not in my messenger bag.
MW: When you said you were dragged, how far were you dragged? Do you remember?
V: Into the alley on this side of the street (points toward opposite side of Irving Street).
PARTNER: That side.
V: I think it was just a short drag to get me away from view of anyone walking down the street.
MW: Was anybody on the street at that time?
V: There were plenty of people on the street.