With marriage equality out of the way, transgender Marylanders are hoping there is enough goodwill — and enough time left in the 2012 legislative session — to pass a comprehensive statewide bill that would ban discrimination based on gender identity or expression.
The Senate Judicial Proceedings Committee heard testimony on Tuesday, Feb. 28 from opponents and proponents of a proposed bill, SB 212, that would make discrimination based on gender identity or expression illegal in the areas of housing, employment and public accommodations.
A similar bill that did not include protections for public accommodations passed the House of Delegates last year, 86-52, but failed in the Senate. Advocates hope that this year, especially with marriage equality off the table, Senate President Thomas V. "Mike" Miller (D-Calvert, Prince George's counties) will be more amenable to allowing an up-or-down vote by the full chamber.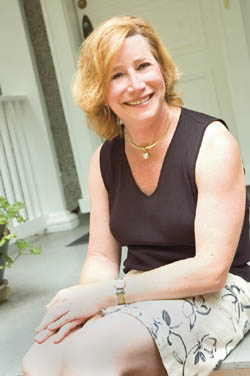 "Marriage will be out of the Senate, and there will be no other 'gay' bills on the table, just our non-gay 'gay' bill," Dana Beyer, executive director of the transgender rights organization Gender Rights Maryland, had told Metro Weekly after the Baltimore County Council passed protections for sexual orientation and gender identity at a Feb. 21 meeting.
Baltimore County's passage of a non-discrimination bill made it the fourth local jurisdiction in Maryland, along with Baltimore City, Montgomery County and Howard County, to pass protections similar to what SB 212 would grant. Taken together, the success of such measures in those places means that 46 percent of the state's population is protected from discrimination based on gender identity or expression.
Advocates pointed out that regional disparity in the course of their testimony.
"We now have a balkanized state where our laws do not cover all people equally, depending on where they live," said Sharon Brackett, president of Gender Rights Maryland, urging lawmakers to support the bill.
"Follow your counties. They are ahead of you on this, as are Alabama, Georgia and Florida," she added, referring to a recent decision by the U.S. Court of Appeals for the Eleventh Circuit that found that discrimination against transgender individuals for gender non-conformity is a violation of the Equal Protection Clause's prohibition on sex-based discrimination.
The hearing featured many parents of transgender children who spoke of wanting their children to be happy and protected under the law for expressing their gender identity. Many told lawmakers on the committee of their personal journeys of understanding, explaining that they did not understand the concept of what being transgender meant.
Catherine Hyde, a mother from Howard County who is part of Parents, Families and Friends of Lesbians and Gays (PFLAG), had tears in her eyes and choked up when she testified of how her transgender daughter was bullied in school for not conforming to gender norms. Other parents and some transgender individuals talked about the discrimination they faced in their daily lives and asked the senators to pass the bill to provide equal protection for all gender non-conforming people in the state.
Some advocates cited the case of Chrissy Lee Polis, a transgender woman who was savagely beaten after using a restroom in a Baltimore-area McDonald's in Rosedale, Md. in April 2011, as evidence of hostility facing transgender women. Polis's attack was recorded on a cell phone camera and later posted on the Internet, where she was subjected to verbal attacks from online viewers, including the employee who posted the video.
But opponents testified that passing a bill with protections for gender identity and expression, particularly in the area of public accommodations and restrooms, would place biological women at risk of sexual assault by predatory "men dressed as women." Some also argued that gender identity is not fixed or immutable, but a mental disorder, and that the law should not be changed to satisfy a preference or lifestyle choice.
Peter Sprigg of the Family Research Council, which has been designated by the Southern Poverty Law Center as a hate group, spoke against the bill, saying, "You're being deceived by an erotic element in the transgender condition."
Opponent Nancy McDermott claimed that "peeping tom" incidents had increased after Colorado passed gender identity protections, and said she wanted to ensure she could protect herself in women's restrooms. McDermott also pointed out that Polis's attackers had been convicted and sentenced without a gender identity law.
Even Sen. James Brochin (D-Baltimore Co.) told supporters during their testimony that he had problems with the way the bill was written. Brochin said he feared allowing transgender individuals into bathrooms with children, not because of concerns that they would be abused, but because they would be exposed to the idea of transgenderism while they were young.
Brochin also pointed out that the Polis attacker had been tried for a hate crime under the definition of sexual orientation, not gender identity, and questioned why existing protections for sexual orientation could not just be applied to transgender individuals.
But advocates of gender identity protections were assisted by Sen. Jamie Raskin (D-Montgomery Co.), the bill's lead sponsor, who asked questions of opponents that caused them to stumble or falter in their testimony. Just as he had when marriage equality was being voted upon on the Senate floor the prior week, Raskin attempted to shepherd the bill through committee, asking intentional questions to help advocates make their points to committee members.
As the hearing continued, many senators began leaving the room, some to attend other hearings. As a result, the number of senators on the normally 11-person committee dwindled to three, and at one point, only Judicial Proceedings Chairman Brian Frosh (D-Montgomery Co.), Sen. Norman Stone (D-Baltimore Co.), and one legislative counsel were present.
As the trickle of senators leaving the room increased, opponents were heard whispering to one another that such absences were "disrespectful" and that the proceedings were "a mess." They also lamented the absence of any of the committee's three Republicans – Sens. Joseph Getty (R-Carroll, Baltimore counties), Senate Minority Leader Nancy Jacobs (R-Cecil, Harford counties), and Sen. Christopher Shank (R-Washington Co.) – all of whom have previously opposed other LGBT initiatives.
Once all witnesses were heard for both sides, Frosh dismissed the proceedings. Outside the chamber, Brackett breathed a sigh of relief and said she was hopeful that the committee would pass the bill and send it to the full Senate for a vote, which she hoped Miller would allow.
"I think we delivered exactly what Sen. Raskin was looking for in terms of testimony today," Brackett said. "I think we really hit it out of the park. … I think it went extremely well, and I think some of the arguments our opposition are pretty weak."
Brackett also said that if momentum to pass the bill was ever going to be present in the upper chamber, this would be the year for senators to act. The legislation, she pointed out, has vocal, on-the-record support from Gov. Martin O'Malley (D), advocates of the non-discrimination bill have had two subsequent victories in Howard and Baltimore counties over the past few months, and there still exists public sympathy resulting from the attack on Polis, which could help to sway lawmakers.
"There's as much momentum for this, this year, as there's ever been," Brackett said of the prospects for passage. "If not now, when?"