Last year, the Adventure Theatre won its first-ever Helen Hayes Award for the show If You Give a Pig a Pancake. This summer, the children's theater company presents celebrated local gay actor Michael Russotto in If You Give a Moose a Muffin.
Sensing a theme? "If you give an animal a pastry, we're into it," jokes Michael Bobbitt, Adventure's artistic director. Well, to turn a phrase, if it ain't broke, feed it.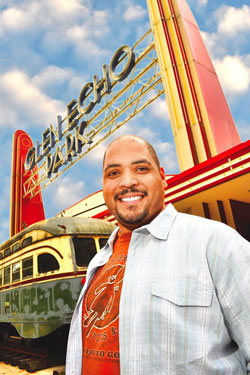 Michael Bobbitt: Adventure Theatre
And in fact, Adventure Theatre is doing better than ever in its 60-year history, according to Bobbitt. Monday, April 16, the organization celebrates that success with its annual gala, where it will honor all 15 past board presidents with the annual Spirit of Adventure Award. Bobbitt says the gala will also include "a major announcement about the company's future." Though he resisted efforts to spill the beans in advance, Bobbitt did identify many of the shows on tap next season, including an hour-long stage adaptation of the Tom Hanks movie Big, plus productions of Winnie-the-Pooh and Cat in the Hat.
The gala festivities include both silent and live auctions with items including tickets to Broadway and off-Broadway shows and tapings to TV shows. Jesse L. Martin, star of Law & Order and an original cast member of Rent, is scheduled to sing at the gala, which will be emceed by actor John Michael Higgins, currently starring as Fran Drescher's gay ex-husband in TV Land's Happily Divorced.
A Bethesda native, Higgins originated the title role in the off-Broadway production of Paul Rudnick's Jeffrey, but is even better known from Christopher Guest's film mockumentaries, including Best in Show, in which he played one-half of a flamboyant gay couple with a Shih Tzu show dog.
Therein lies a modest proposal: Adventure's next thematic show could star Higgins as Donlan. The title? If You Give a Dog a Danish.
Adventure Theatre's 60th Anniversary Gala & Auction is Monday, April 16, starting at 6:30 p.m. Silver Spring Civic Building, 1 Veterans Place, Silver Spring. Tickets are $250. Call 301-634-2270 or visit adventuretheatre.org.