David Mariner is on the verge of happiness. Just about 50 signatures away, actually.
"If we get 500 signatures, I'll be very happy," says Mariner, executive director of The DC Center, D.C.'s LGBT community center. The signatures he's hoping to get are for the center's Change.org petition in support of The DC Center securing a vacant street-level space in the city's Frank D. Reeves Municipal Center at 14th and U Streets NW, less than a block from the spot the center now occupies.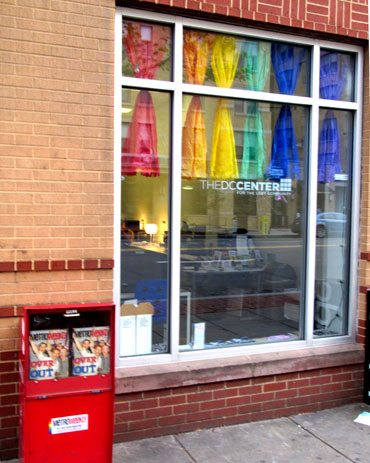 The DC Center for LGBT Washington, DC
(File Photo/JD Uy)
While another open spot in the Reeves building has been committed to the U.S. Postal Service to house its displaced post office at 1915 14th St. NW, The DC Center is preparing to submit a bid, due April 26, to secure a second vacancy.
This latest push to find a more permanent home is not new territory for the center. From office space at 14th and L streets NW in 2005, The DC Center moved a few blocks northward in early 2010 to 1810 14th St. NW, space owned by JBG Properties. JBG offered the space, which it bought from Whitman-Walker Health (then Whitman-Walker Clinic) in 2008, for reduced rent on a temporary basis. When plans progressed to redevelop the property, JBG offered The DC Center its current location at 1318 U St. NW, also at reduced rent – and also on borrowed time.
The DC Center moved to its current location in June 2010 with an understanding they'd have a home for two years. Mariner says today that nothing has been put in writing, but that he expects "we'll be out of here by Dec. 31."
The contract the center is vying for in the Reeves building could, by contrast, give the organization a secure home for possibly 15 years, says Mariner.
"This is an open and transparent process," Mariner says of the bid with the city's Department of General Services. "We're going to pay rent and contribute to the neighborhood. We're not going to propose $8,000 per month in rent, but we can pay some rent. The city should take into account that we're good for the neighborhood. There are myriad services we provide every day to improve the lives of LGBT in the city."
The DC Center's Change.org petition supporting its bid may be useful, but people such as Nick T. McCoy are invaluable. With Michelle Ross, the center's board vice president, McCoy serves as co-chair of The DC Center Relocation Committee. And he's making the center's wishes known at the John A. Wilson Building, D.C.'s city hall.
"I go down to the Wilson Building almost daily," says McCoy of a process now about three weeks old. "I've met with [Councilmember] Jack Evans (D-Ward 2). He's the first person I met with. He's always been supportive. Then it was [Councilmember Jim] Graham's (D-Ward 1) office. He helped put us in this [1318 U St. NW] space."
McCoy ticks through supportive councilmembers, stopping with Councilmembers Yvette Alexander (D-Ward 7) and Marion Barry (D-Ward 8), the only two, he says, who have not been responsive to The DC Center's request for support.
"Until I hear a response, I'll be disappointed," he says. "I'm frustrated. I'm angered. That's my personal opinion."
One thing McCoy is not, however, is defeated. It might be his game face, but McCoy sounds very, very confident.
"We will win," McCoy says with determination. "This is where all my energy for the past few weeks has been focused. This is a boon for the entire community."
Mariner may not have all of McCoy's confidence, but he's got some.
"I'm cautiously optimistic," Mariner says of the bid. "I don't want to think about 'worst case scenario.' This would be as close to permanent as we've ever come. We can do things in the space to make it the kind of community center we want. We really want it to be a space that works for everyone."