Last night, April 12, Katie White unceremoniously took to the 9:30 Club stage after the house lights had dimmed. Wearing a ball cap low on her head and sporting bagging clothes, White slunk to center stage all while repeatedly shushing the boisterous sold-out crowd.
Later, she told the crowd to "shut up." Of course, it was in service of the Ting Tings, her nervy pop partnership with fellow Brit Jules de Martino. White was shushing the crowd for "Silence," the slow-to-build opening track from Sounds from Nowheresville, the duo's second set, released last month. The album itself is slow-to-build – but the more you listen to it, the more you come to appreciate its pop craftsmanship. The album finds the Ting Tings continuing to straddle the divide between dance and punk, with a little hip hop thrown in, creating a fun, spunky blend of pop that recalls forebears from Blondie to New Order to the Beastie Boys as well as contemporaries such as the Gossip, Le Tigre/JD Samson + MEN, even a little Robyn. And also Pink, whom the Ting Tings opened for in 2009.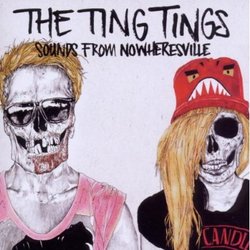 "Hold your tongue now," White chanted as "Silence" opens, "and let them all listen to your silence." The crowd listened all right. There was a fair amount to watch, too. The LED show lights, in particular, were a perfect shade of mood-enhancing intense. Both White and de Martino, who spent much of the time behind his drum set, strapped on guitars from time to time, with assistance from their guitar gofer, seen constantly running around. At another point White banged on the centerpiece bass drum sporting the Ting Tings logo, banging it so hard it fell from its stand.
"Every time we come here you're so wonderful," White buttered up the crowd toward the end of the short, roughly 75-minute show. It was one of the rare times White actually talked to the crowd or made much of an effort to engage rather than simply perform music. While half of the material was new, there were the hits from the band's 2008 breakthrough, the cheekily titled We Started Nothing: chiefly "Shut Up And Let Me Go" and That's Not My Name," the unforgettable ditty that closed the show as part of a one song, pseudo-encore.
The duo then exited the stage nearly as quickly and as resolutely – as quietly too – as White had entered. Almost as if they couldn't wait to be let go.
9:30 Club Set List
Silence
Great DJ
Hang It Up
Give It Back
Guggenheim
Hit Me Down Sonny
We Walk
Fruit Machine
Shut Up And Let Me Go
Hands
That's Not My Name
Tickets remain for Saturday, April 14, at 9 p.m., at Rams Head Live!, 20 Market Place, Baltimore. Tickets are $25. Call 410-244-1131 or visit ramsheadlive.com.
Additional remaining shows on The Ting Tings' U.S. Tour:
April 13
Philadelphia, Penn.
The Trocadero
www.ticketfly.com
April 16
Atlanta, Ga.
Variety Playhouse
www.ticketmaster.com
April 17
Birmingham, Ala.
Workplay Theater
www.workplay.com
April 18
New Orleans, La.
House of Blues
www.livenation.com
April 20
Houston, Tex.
Fitzgerald's
www.ticketweb.com
April 21
Dallas, Tex.
Granada Theater
www.tickets.granadatheater.com