The March 20 demonstration for victims of crimes that seemed to target members of the LGBT community may have been more warranted than organizers imagined. While three attacks were specifically cited during the demonstration, at least 15 incidents – either assaults or threats of assault – with an apparent bias motivation occurred in March.
Of those 15 reported incidents, 10 were physical assaults and five were threats to do bodily harm.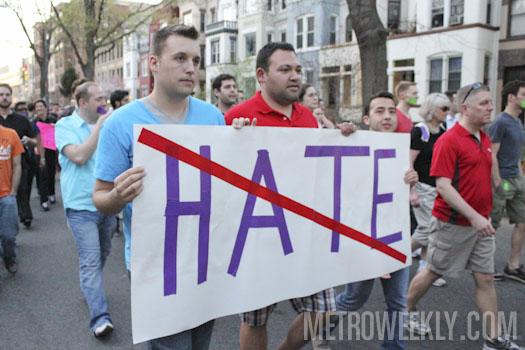 Starting on March 2 and continuing through March 31, several members of the LGBT community found themselves the target of such attacks, including a few incidents that took place in close proximity to local establishments frequented by members of the LGBT community.
In the days since the March 20 demonstration, five such attacks have been reported.
Two occurred March 22. One involved a man leaving a club in the Dupont Circle area, the 2100 block of Twinning Court NW, who reported being attacked by a suspect with an unknown object that cut his face. In the other, a woman reported that she was accosted by a suspect using homophobic slurs and who threatened to kill her in the 2700 block of Langston Place SE.
A gay man was also assaulted around 3 a.m., March 25, as he attempted to enter Dandy's Carry Out at 2008 9th St. NW. The victim told police that two men standing at the door asked for change and that he refused. One of the suspects called the victim a "faggy ass bitch." The victim then confirmed his identity as a gay man, before being struck in the face by one of the suspects, both of whom then fled the scene.
Far less random was a March 27 assault, in which two brothers clashed in a domestic disturbance regarding one brother's sexual orientation. One of the men – now facing a simple assault charge – allegedly used anti-gay epithets, then pushed his brother through a glass window.
The month ended March 31 with a transgender woman reporting she was assaulted by five men near the intersection of 5th and K Streets NW.
Hassan Naveed of Gays and Lesbians Opposing Violence (GLOV), a project of The DC Center, says unseasonably warm weather may have contributed to the number of attacks. He noted that past trends show a rise in hate crimes as temperatures rise.
Earlier in the month, March 2, an employee at a club in the 2100 block of P Street NW, reported that two patrons he escorted out of the establishment threatened him while brandishing a knife.
Another man reported being threatened March 8 at a fitness center in the 1000 block of Independence Avenue SW, by a man using anti-gay slurs.
On March 3, a transgender woman in the 3300 block of Brothers Place SE reported to police that a suspect had threatened to kill her. She told police she believed she was targeted because of her gender identity.
A week later, March 10, a gay man reported being punched in the face in Foggy Bottom after calling another man "cute." MPD lists the suspect in that case is a white male, about 22 or 23 years old, from 5'8" to 5'9" and weighing about 150 pounds. He has light brown hair, wearing a blue jacket and white pants.
A transgender woman reported being attacked by a neighbor March 17 in the unit block of Girard Street NE on her front steps. According to the police report, the neighbor punched the woman and caused her to fall to the ground. She later told police she believed she was targeted because of her identity.
These add to incidents previously reported in Metro Weekly, such as the three attacks cited at the March 20 demonstration, involving a shooting at a Columbia Heights IHOP Restaurant, a gay man severely beaten near his home at the intersection of Georgia Avenue and Irving Street NW, and a transgender woman beaten unconscious near the intersection of Mount Olivet Road and West Virginia Avenue NE. Other previously reported incidents in March include a lesbian being assaulted by a coworker, and a lesbian couple threatened near the Minnesota Avenue Metro Station.
Absent violence or threats of violence, March incidents include defacing of property with homophobic slurs, on-the-street heckling of a gay man in Columbia Heights, and the shattering of a Southeast D.C. woman's window following the shouting of several homophobic slurs.
Not all of the crimes targeting LGBT victims that occurred in March have been classified in police reports as bias-motivated crimes, though prosecutors may later choose to pursue such charges.