A professional photographer with traditional roots, Dustin has a nontraditional outlook on life. The Louisiana-born, Florida-raised Southern boy living in Rockville likes to buck the status quo and smash gay stereotypes. Despite coming out only a year and a half ago, following a three-and-a-half-year relationship with a woman, the 25-year-old comes across at ease with himself – knowing who he is, where he's been and not seeking anyone's approval. Due to the nature of his job, Dustin is often working, but on the rare occasion that he has "down time," he spends it relaxing at home with friends.
What's on your nightstand?
A picture of my parents and a Marc Hom photography book. He's my favorite photographer.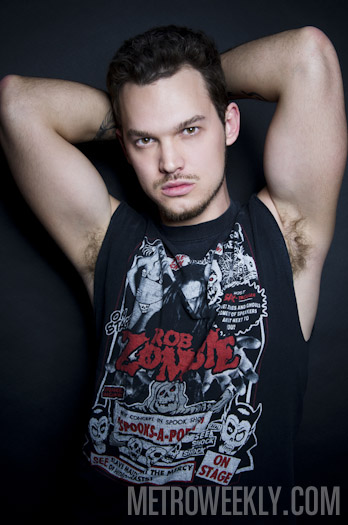 Coverboy: Dustin
(Photo by Julian Vankim)
What's in your nightstand drawer?
A bunch of memory cards, and I think that's about it.
Where do you keep the condoms and lube?
In the hutch where my TV is. They're collecting dust. I keep them where God can't see them.
What was your favorite cartoon when you were a kid?
I was really into Doug.
What superhero would you be?
Probably Superman, because he always has really good hair for a cartoon character.
Who's your greatest influence?
My mother. She's one of the strongest people I know, and she makes me want to be a better person.
What's your greatest fear?
Not achieving in life what I know I'm capable of achieving.
Pick three people, living or dead, who you think would make the most fascinating dinner guests imaginable.
David Lynch. Erykah Badu. Abraham Lincoln. He's my favorite president. I have a big tattoo of him on my arm. I just admire how progressive he was at the time he lived.