Kerry Brougher doesn't think architect Gordon Bunshaft or other developers of the Hirshhorn Museum anticipated that the circular, donut-shaped building, completed in 1974, would one day function as a giant, 360-degree cinema screen.
But that's exactly what it is now, with Doug Aitken's custom-designed film Song 1 projected around the Hirshhorn's perimeter every night.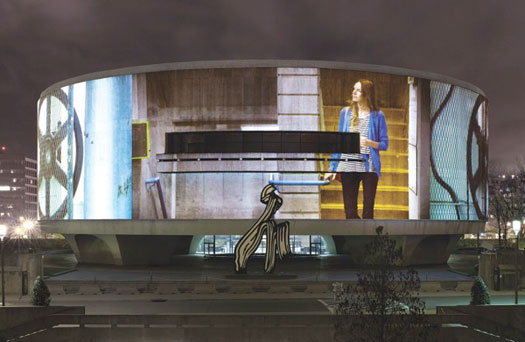 Doug Aitken: Song 1
(Photo by Frederick Charles)
Other than a single slide projected onto the building for one night in the '80s, Brougher, the Hirshhorn's deputy director and chief curator, says this is a first for the museum, and really for the entire museum community.
"I think it's probably the first time any museum in Washington has done any kind of projection, of this scale anyway," he says. The Hirshhorn staff had discussed doing something like this for years, but it took Aitken's inspiration to actually pull it off. "He almost had to reinvent cinematic language to make it work on the building," says Brougher, noting that the film's frames had to be edited both vertically and horizontally to make a convex projection work.
Brougher describes the film as "an anti-narrative in a way," with no fixed story and no set beginning or end. "The film sort-of reflects what's happening out on the Mall. It's a film about the urban landscape," with people walking, driving – and performing "I Only Have Eyes For You." The film's soundtrack includes roughly 15 variations on the 1934 pop standard, in styles ranging from ragtime to do-wop to ambient pop.
Many of the musicians who performed the song are expected at a special closing party Friday, May 11, in which they'll turn off the film's sound and instead feature live accompaniment.
After that, the film, created exclusively for the Hirshhorn, will be retired to the museum's collection, though Brougher expects they'll screen it again in a few years. He also sees the commission as a harbinger of what's to come. "This is just the start," he says, "of a series of public space projects I hope we'll do at the museum."
Song 1 runs from sunset to midnight nightly, rain or shine, through May 13, at the Hirshhorn Museum, Independence Avenue and 7th Street SW. Call 202-633-1000 or visit hirshhorn.si.edu.