"It's a big one," says Septime Webre, "a really loud, wild dream."
The artistic director of the Washington Ballet isn't joking about the brand-new production Alice (in Wonderland), which is his original conception, featuring his choreography. Webre has enlisted the Washington Ballet's full ensemble of 40 adult dancers, as well as 100 children starring in two mixed repertory programs.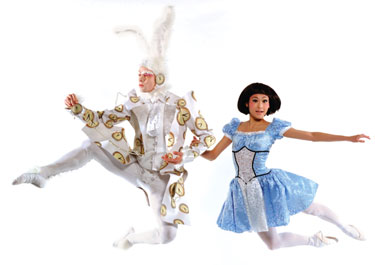 Alice
(Photo by Steve Vaccariello)
But to make it even bigger and wilder, Webre tapped designer Liz Vandal, who's most recently worked for Cirque du Soleil, to create costumes both chic and fantastical. Designer Eric Van Wyk has also heightened the experience with a puppet with a 24-foot wingspan operated by seven puppeteers. And composer Matthew Pierce has developed a slightly whimsical chamber orchestra score for nine string players and two percussionists.
The response has been big and wild, as well. "There's almost not a ticket to be had," Webre says. "It's already broken all records of all box office sales of any ballet the Washington Ballet has ever produced except for The Nutcracker."