In various locales, every once in a while there comes a colorful personality that seems to add a splash of color or bit of panache, standing apart from the relative mediocrity. April 1, Washington lost one such character, Vann Chen, perhaps better known around town as "Mama Vann."
Nightlife promoter Mark Lee recalls just the sort of memory that helps illustrate the verve that Chen – who could move through a space with a sort of androgynous feline grace, when he wished – brought to Washington.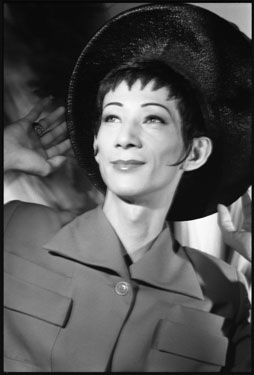 Vann Chen (1995)
(Photo by Todd Franson)
"It was a very pretty morning," Lee remembers a mid-1990s early dawn, snow falling and club kids making their way home. Seeing a collection of party boys dressed as Roman centurions, making their way down P Street as they held Chen aloft, Lee says he wondered if he might have been hallucinating. "They were carrying Vann so she wouldn't have to walk in her pumps in the snow.
"Vann was always extraordinarily thoughtful. Everyone had a great affection for her. You would expect to see her out – and you would hope to see her."
That's exactly the sort of sentiment that's been flooding Facebook in the days since Chen's death, primarily on a page dedicated to an upcoming reunion event celebrating the nightclub Tracks, long since closed. That's where Michele Miruski, once a blazing D.C. DJ, went. Now in Oklahoma, she recalls Chen's kindness and generosity.
When she would DJ at Tracks, or any other number of gay D.C. venues, Chen would bring her gifts, she remembers.
"He would bring me pieces of fruit that symbolized good luck or good fortune," she says, guessing she last saw Chen about three years ago when she spun at a Baltimore event. "He would make special things. He made me a beautiful heart-sequined box. He was just one of a kind. Vann was just a beautiful human being. Everybody that came in contact with him always felt better. He had a way of making people feel good about themselves."