The 28th Annual Helen Hayes Awards, held Monday, April 23, at the Warner Theatre, opened with "Hello" from last year's Broadway sensation The Book of Mormon.
"It doesn't matter if you're straight or gay," the ceremony's performers sang in an altered lyric.
And that's all well and true – but it certainly doesn't hurt to be gay in the theater world.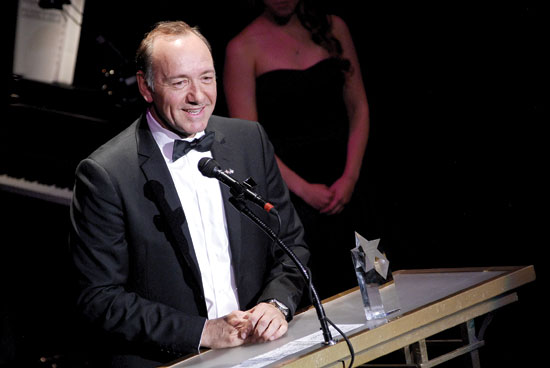 Kevin Spacey accepts a special Helen Hayes Award at Monday's event
(Photo by Ward Morrison)
In fact, the LGBT community was well-represented at the awards, honoring achievement in regional theater in 2011. Roughly 25 percent of the individual awards alone went to gay performers. In addition, theaters helmed by gay directors won big, including three awards for Michael Kahn's Shakespeare Theatre Company and two for Michael Bobbitt's Adventure Theatre. Eric Schaeffer's Signature Theatre hauled in the most awards — five for its production of Hairspray, including best musical and best musical ensemble. (Arena Stage earned top play awards for its productions of Edward Albee's Who's Afraid of Virginia Woolf? and Ruined.)
Schaeffer surprisingly did not win as best director of a musical, losing out to Michael Baron, for Adventure's A Year with Frog and Toad. In accepting the award Baron, who was Schaeffer's assistant director at Signature until 2010, noted that he told his partner to stay home in Oklahoma. He just did not expect to win.
That provoked Jon Kalbfleisch, accepting for his musical direction of Hairspray, to retort, "I honestly wasn't expecting to be here, either, but my boyfriend is here, so it's okay."
Among the acting awards, Euan Morton won for his leading role in Ford's Theatre's musical Parade, and Matthew Delorenzo won as best supporting for his portrayal of transsexual Candy Darling in Studio Theatre's quirky musical Pop!
Perhaps the night's most affirming award was for Birds of a Feather. "I really needed this," playwright Marc Acito said in accepting the award for best new play. At least until now Acito has been unable to interest prominent theaters in the gay penguin-themed play.
"This could not have happened without one woman in Fairfax County," he said, praising Helen Pafumi of Virginia's Hub Theatre, which produced the show.